There is an abundance of excellent mountain bike trails in Bellingham and all around Whatcom County. Here are a few of our favorite trails for the flow, features, and sightseeing along the way.
Our favorite mountain bike trails in Bellingham and Whatcom Co!
1) Double Black > Double Down
Rating: Difficult
Miles: 6
On the very edge of Whatcom County, these two trails are located just outside of Bellingham in the Chuckanuts. Park at the Lost Lake parking lot and mentally prepare yourself for the nearly 1,900 foot climb up the fire road. Along the way you'll see thick forest, a waterfall, and on clear days, a view of Kulshan / Mount Baker and Bellingham Bay. When your lungs have recovered, expect a pretty rowdy descent, featuring large exposed roots, technical rocky slopes, steep drops, and plenty of packed-dirt berms and kickers. Both of these trails are downhill only and large portions are accessible only to mountain bikes. Double Black connects to Double Down at the first road crossing, which you'll pass on the pedal up.
Find more details and a full map of this trail on Trailforks here.
2) SST > Candy > Family Fun Center > Bob's
Rating: Intermediate
Miles: ~4
Because of the absolute noodle bowl that is the Galbraith Mountain Trail System, we've combined a few of our favorite trails together to make one full ride. For this route, make your way to the top of SST on the North Side of Galbraith Mountain, a trail entrance easily accessible from just about anywhere in Bellingham. There are several ways to get to the top of SST, so follow the link on Trailforks to see which up route might be best for you.
Take a gander at Kulshan / Mount Baker and the Twin Sisters (on a clear day) from the top of the trail, take a breather at the newly installed bench, and check out the new wood carved art memorial before dropping in. Follow this flowy trail all the way to the large rock roll (ride around available), then exit the trail on the fire road and head toward a trail called Candy.
Candy is a connector trail, which will quickly meet up with Family Fun Center, both of which require a little pedaling. Climb your way out of these gentle, loamy trails and you'll end up at Bob's.
Descending down Bob's, expect fast flow, exposed roots, and one optional wood feature drop. This trail will pop you out on Alvarado Drive with options to pedal back up for another lap, or head back into town.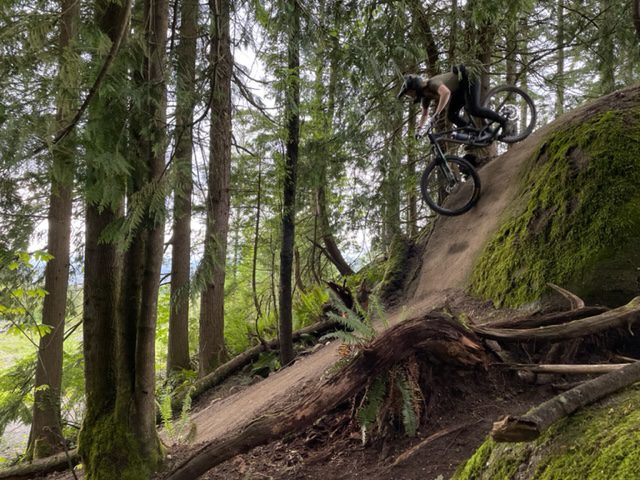 3) Mohawk > Mullet > Cheech & Chong
Difficulty: Intermediate+
Miles: ~4
For this route, park (or pedal) on the South Side of Galbraith Mountain and make your way up Dog Patch to the fire road, then pedal all the way to the top of the mountain.
From there, you'll descend down Mohawk, a machine-built jump trail perfect for those who like to get their bike into the air (and those who don't – all the jumps are table tops and rollers, easy to ride over slowly). As soon as you finish this trail, connect it immediately with Mullet. This trail takes you through the woods, provides a few optional gap jumps, and ends after a bridge ride on top of a wetland. End this ride by connecting to one more trail, Cheech and Chong. This trail is fun for any riding ability with a few rollable features and technical features.
Either pedal back for another lap from here (see next trail recommendation), or head back into town.
4) Evo > U-line > Atomic Dog
Difficulty: Intermediate
Miles: ~4
Follow the same route as above to get to the top of Galbraith Mountain. This time, take Evolution (known locally as Evo) and get ready for a series of jumps, ladders, drops, and wood rollers. All features have walkarounds which makes it a great trail for folks learning new skills on the bike.
Connect this trail with Unemployment Line (known locally as U-line), which starts with an optional steep wood roller, but then mellows into a flowy, mildly technical trail. At the end of U-line, connect this trail with Atomic Dog (also known as A-dog) for some fast, fun, flow to wrap up your ride. Note that Atomic Dog has recently been rebuilt after forestry work in the area, so be prepared for new features!
5) Cedar Dust Jumps
Difficulty: Beginner – Expert
Miles: As many as you make it
If you're looking to build your technical bike skills, the Cedar Dust jump-lines are a great place to start. Ranging from a gentle green run, to an expert, mandatory gap run, there's something for everyone. For easiest access, pedal up the Pipeline Road (or push up if that's more your speed) which connects directly to the Cedar Dust jumps.
Warm up on the green or blue run, then test your skills on the more difficult black line. If you're really feeling it (and are confident in your skill-level), check out the expert line — or just get some inspiration from a local pro likely out the jumps.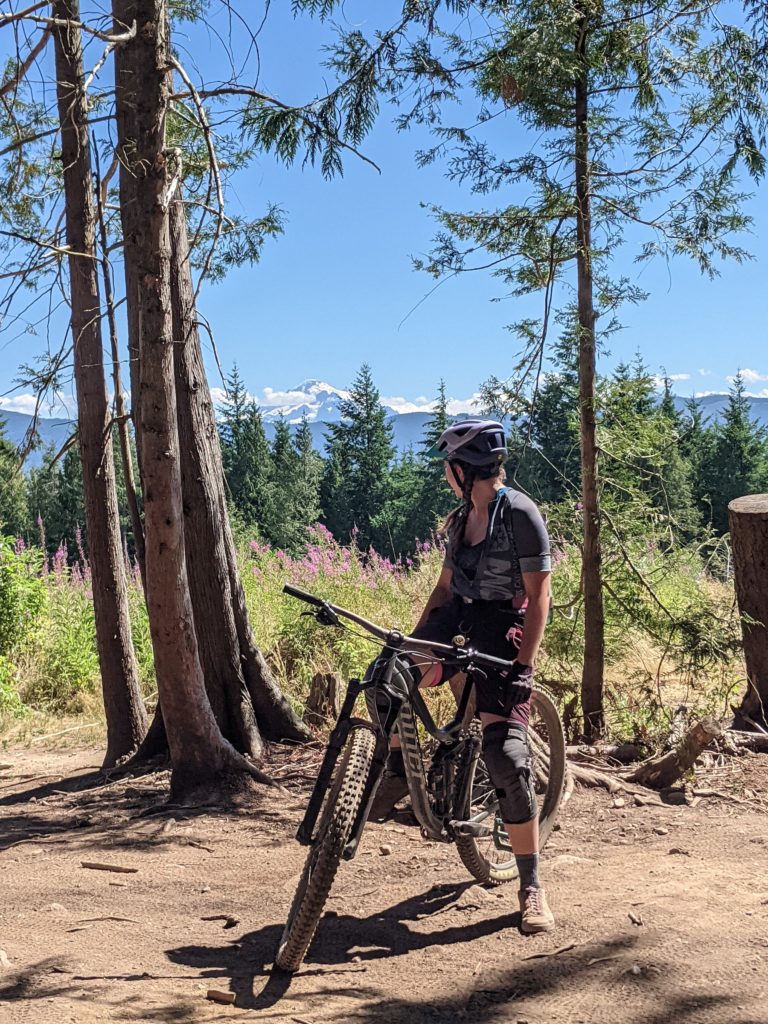 ---
How to show the places you ride some love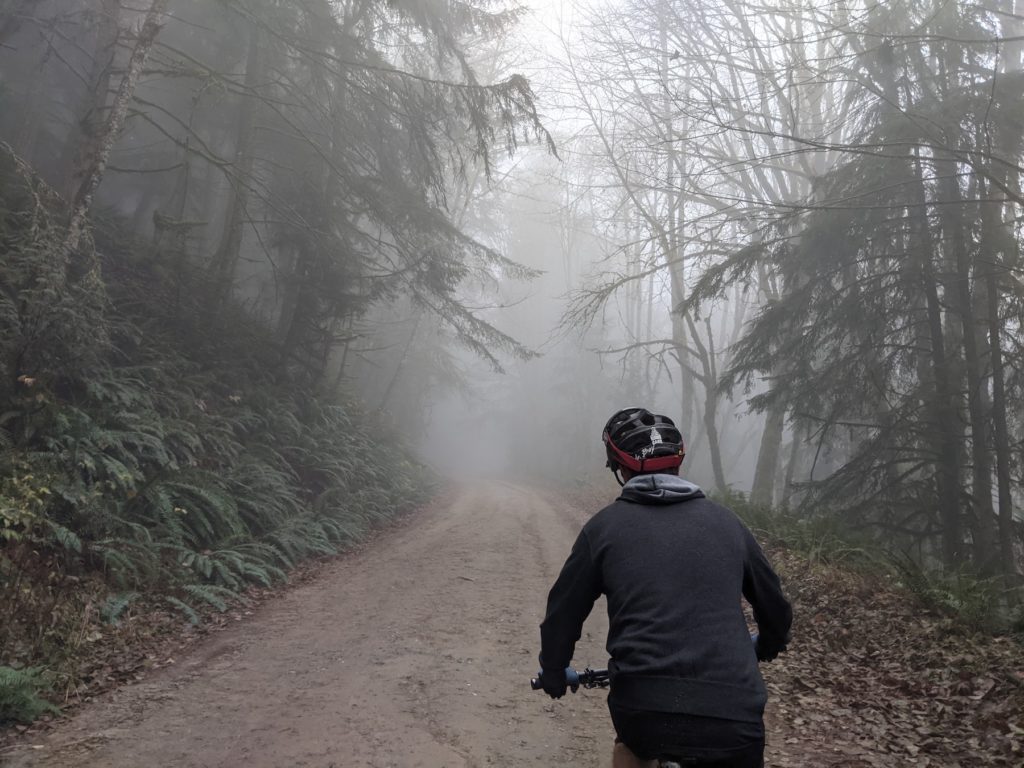 Our region's epic network of trails exists, at least in part, because for decades, folks in this region have made conserving forests and open space a priority.
These natural lands offer myriad benefits beyond all the amazing recreation opportunities. Our region's Doug fir and cedar forests provide wildlife habitat, they filter our water, and they're some of the best acre-for-acre carbon sinks on the planet. Many of our local trails traverse working forest lands, which provide valuable wood products.
These forests also offer Northwest Washington communities a natural line of defense against worsening climate impacts by shading land and water amid hotter, drier summers and by helping to regulate the flow of water, mitigating both flooding in the winter and low stream flows in the summer. By protecting these forests through a combination of responsible recreation, conservation, and climate-friendly forest management, we can ensure that the many benefits of Northwest Washington's forests — including world-class mountain biking — endure for generations to come.
If you love to bike AND you want to help keep Northwest Washington green, sign up for our monthly E-News, or text RESOURCES to 40649. We'll make sure you always know when you can speak up for the climate and for our region's lands and waters.
One more note about recreating responsibly
As a mountain biker, you can also help protect our region's forests, streams and drinking water by sticking to sanctioned trails, adhering to trail closures and other signage, and by advocating for bridges and graded trail routes that limit stream disturbance and erosion. Thank you!