This winter, over 1,000 people who sent letters to the Washington DNR's Board of Natural Resources urging them to stop the proposed sale or at the very least consider an alternative action. We're happy to share that this morning DNR announced a new carbon reserve program (the first such state program in the nation) to decouple 10,000 acres of its trustlands in western Washington from timber harvest.
The program plans to generate money from carbon offsets to make the trustland beneficiaries whole, although details have yet to be released.
The first phase covers 3,750 acres, including most of Unit 2 of the Bessie Timber Sale! This 46-acre unit contains native second-growth forest that naturally regenerated roughly 100 to 120 years ago after being logged by early settlers. RE Sources and others have been trying to protect this unit from logging because of the benefits these forests offer, including carbon storage, water retention and filtration, slope stabilization, and wildlife habitat. DNR's carbon project includes over a thousand additional acres of forestland protection in Whatcom County, most of which lies within the Lake Whatcom watershed.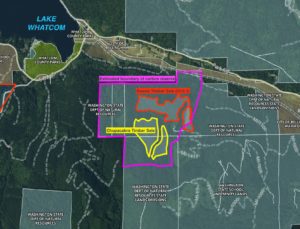 This is a major development in response to growing calls for better integrating the latest climate, forest and watershed science into the region's forest management practices. It's worth noting that on the landscape scale, 10,000 acres represents only one half of one percent of DNR's total forested trustlands, so there's still more work to be done. Make no mistake though, this is a win for local water quality and climate resilience, and it's thanks to people like you speaking up.
Thank you for raising your voice and getting involved. Your voice makes our work more powerful and Northwest Washington more resilient. Maybe take a stroll in the woods to celebrate if you have the chance.
See you around the forest!
PS: Your voice makes a difference. Sign up for our Action Alerts if you haven't already and we'll make sure you're in the loop about opportunities to defend, restore and better care for this region we all call home.
You can also send Commissioner of Public Lands Hilary Franz a quick thank-you email at cpl@dnr.wa.gov