To make upcycled spring flowers at home, you will need: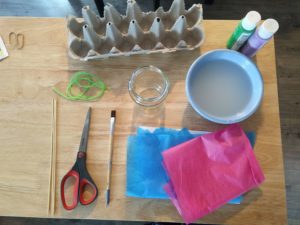 Materials
Old Tissue Paper
Small Glass Jar
Cardboard Egg Carton
3 Kebab Sticks or 3 similar sized sticks from outside
String, Yarn, or Ribbon
Paint Brush
Newspaper to paint on
Cup of water to clean paint brush
Mod Podge (or make it yourself by stirring together 1/8 cup corn starch into 1/4 cup cold water, then add 2 cups of boiling water and mix)
Tape or Glue if not using Mod Podge
Procedure
Cut out 3 sections where the egg rests from a cardboard egg carton.

Cut the pieces to look like flowers by making 4 slits along the piece. Then trim the sides of the pieces so they have a more petal shape like in the photo below. Paint the flowers however you would like.


Paint the kebab sticks as well (they are the stems of the flowers). Be careful of the sharp end of the kebab stick! Let them dry.

Cut or rip pieces of tissue paper into various sizes less than 1.5 inch big.

Using the Mod Podge or mixture, paint some onto the glass jar, then stick the tissue paper pieces on top of it. Next, paint over the tissue paper again to make sure the tissue is smooth on the jar, giving it a stained glass look.

Using the Mod Podge or mix, stick the kebab sticks to the back of each flower when they have fully dried. You can use glue to tape if you don't have Mod Podge.

Place the flowers into the glass jar and tie a bow to complete the project!

Viola! You now have an upcycled bouquet of spring flowers that won't wilt!
We want to see what you made!
Take a picture of you and your upcycled spring flowers and send them to us or tag us on Instagram (@resources_protects)!