Water is wonderful — it keeps us clean, grows our food, cools us down when we're hot, and quenches our thirst. We use it every day for all kinds of things. In fact, the average person living in the United States uses 100-300 gallons of water per day! What if you had to carry the amount of water you used around with you? This video will show you just what that looks like!
Even though about 71% of the Earth's surface is covered in water, it is still a finite resource (meaning there is a limited amount). Humans aren't the only ones who need water to survive; plants and animals need it, too!
But here in the Pacific Northwest, it rains so much it seems like we have all the water we could need! It is true that it rains so much during some seasons that our rivers flood! But that isn't true all the time, especially in the summer when farmers need water most to grow the delicious food that Whatcom County produces. So, we need to use it wisely, and conserve it when we need it most.
Water in Bellingham
When you turn on the faucet do you wonder where the water comes from? Or where it goes when it goes down the drain? In Bellingham, the water that comes out of your faucet comes from Lake Whatcom!
The City of Bellingham draws the water from Lake Whatcom through a pipe and filters it at the Water Treatment Plant. When the water goes down the drain, or when you flush the toilet, that water travels through different pipes and is brought to the Waste Treatment Plant. At the Waste Treatment Plant, the water gets cleaned up and then it travels through some more pipes out to Bellingham Bay. If you would like to learn more about this process, check out this website.
But how does the water get in the lake? Or in the clouds? Water moves and changes form constantly. This week we are going to explore that process through the water cycle!
The Water Cycle
Water is always being recycled in the environment. The basic water cycle has three stages.
Evaporation: Oceans, lakes, rivers, etc. get heated up by the sun. The water then evaporates, which means it goes from a liquid form of water into a gas form of water. The evaporated water is lighter, so it rises up. To investigate how evaporation works, watch this video!
Condensation: Because the atmosphere is cold, the water cools and combines and forms into clouds. This stage is called condensation.
Precipitation: When the clouds get full and heavy with water, the water falls as rain. This part of the water cycle is called precipitation. Precipitation can be in the form of rain, snow, hail, or sleet. The water falls back into oceans, lakes, rivers, etc. and the cycle starts all over again. That means that all of the water that has ever existed is still around!
Let's think about the water cycle, on a more local level.
Where do you think the water could evaporate in Bellingham?
Are there a few bodies of water you could think of?
Where do you think condensation could happen in Bellingham? Think about where you see the most clouds.
How about precipitation? Can you name all the places where you have seen precipitation recently? Both rain and snow?
Here is a picture that might give you some more ideas: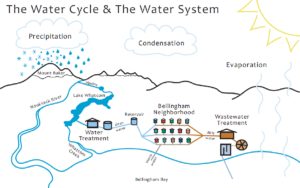 Do-it-Yourself Project: Cloud in a Jar
How cool would it be to create your own cloud? You can do just that (with a little help from a parent)! First, watch this short video where I create a "Cloud in a Jar".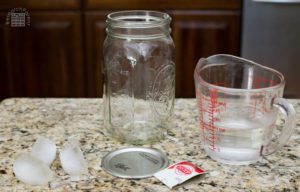 Do your own experiment at home!
Take Action: Show us the Water Cycle!
Can you create something that shows how the water cycle works around your favorite body of water? It could be a nearby stream, pond, lake, river, or even the ocean. You could do a painting, drawing, sculpture, anything you would like!
Take a picture of you and your water cycle creation and send them to us or tag us on Instagram (@resources_protects)!
More Ways to Conserve Water
There are many ways that we can conserve water, which means use less of it. Some examples include:
Turning off the faucet when brushing your teeth
Taking shorter showers
Checking for leaks
Giving unused water to plants or pets
Capturing rainwater in a rain barrel to then use to water your plants.
It's pretty easy to save water once you know a little bit about it! If you start conserving water at home, we want to hear about it! Take a picture of you and your project and send them to us or tag us on Instagram (@resources_protects)!
Continue Learning!
There are lots of topics for you to choose from. Don't stop here; move on to discover another lesson! New lessons uploaded each week.