Sign up for our monthly e-news and always hear about our events first! Looking for public meetings where you can make your voice heard? Check out our recurring meetings page.

RE Store 30th Anniversary Party: Music, Food, and Fun for All!
April 22 @ 3:00 pm

-

8:00 pm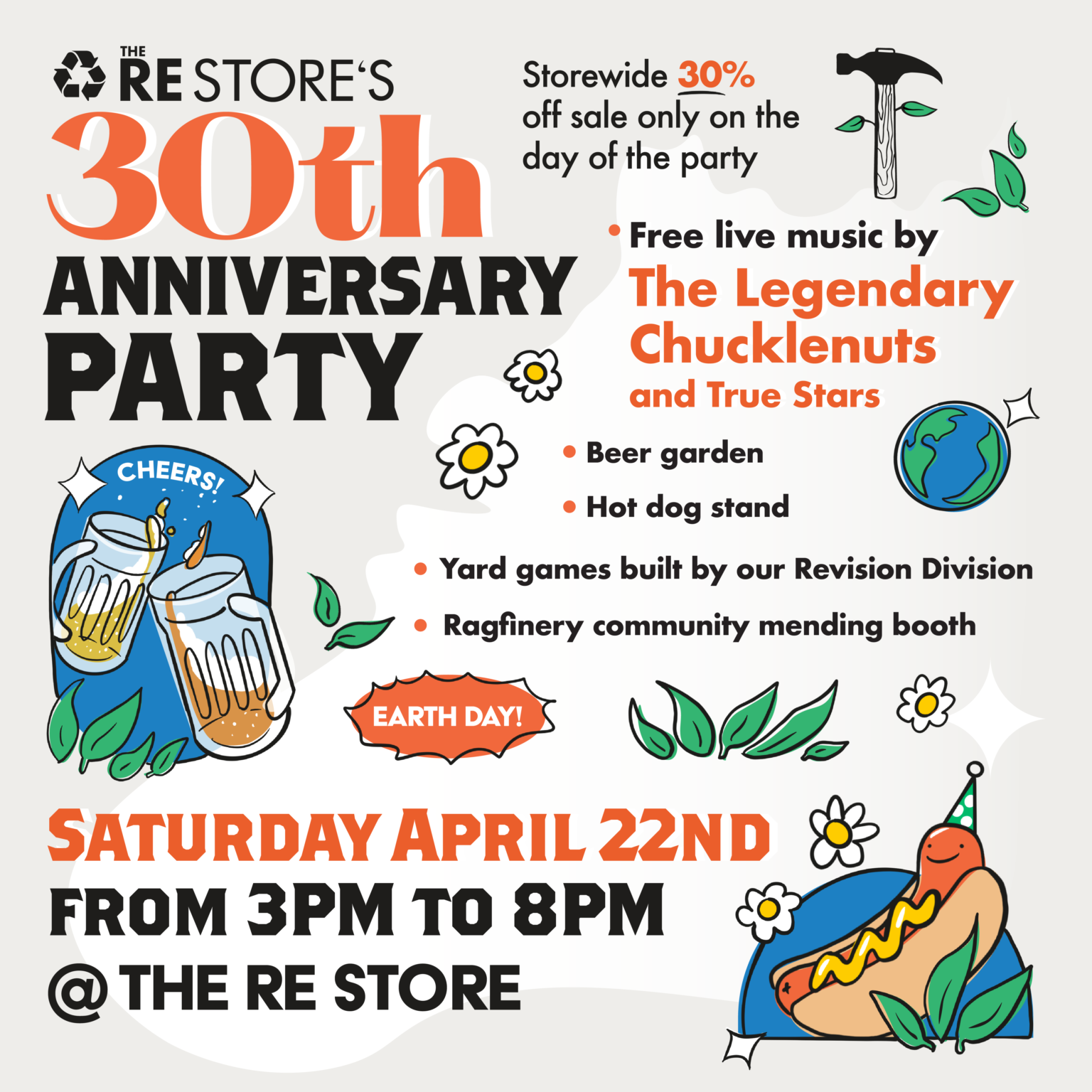 The RE Store is excited to host a free, all-ages party on Saturday, April 22nd from 3pm-8pm to celebrate 30 years of supporting local reuse in Bellingham. This outdoor event will feature live performances by The Legendary Chucklenuts and True Stars, as well as a beer garden, hot dog stand, Ragfinery's Community Mending Booth, and yard games built by The RE Store's Revision Division.
The RE Store is throwing this party to thank everyone that has helped them achieve their goals of diverting reusable resources from the landfill and providing job training to displaced workers. By attending the event or making a donation, you can help The RE Store continue their efforts to make a positive impact on the environment and local community.
Did you know that The RE Store diverts over 2.7 million pounds of material from the landfill every year? This saves the Whatcom County community $1 million in building costs! Additionally, just last year there were 53 participants in The Community Job Training Program that received individual coaching that prepared them for long-term employment.
If you were planning on shopping for lumber, tools, and furniture the day of the party, you are still welcome to! As a thank you for helping The RE Store reach 30 years, they are offering a storewide 30% off sale on Earth Day. Whether you are interested in the party or the sale, you do not want to miss out on this event! So mark your calendar for this Rockin' celebration!