Sign up for our monthly e-news and always hear about our events first! Looking for public meetings where you can make your voice heard? Check out our recurring meetings page.

Bellingham waterfront cleanup: Whatcom Waterway site comment period (Ends May 24th)
May 3 @ 3:30 pm

-

May 23 @ 5:00 pm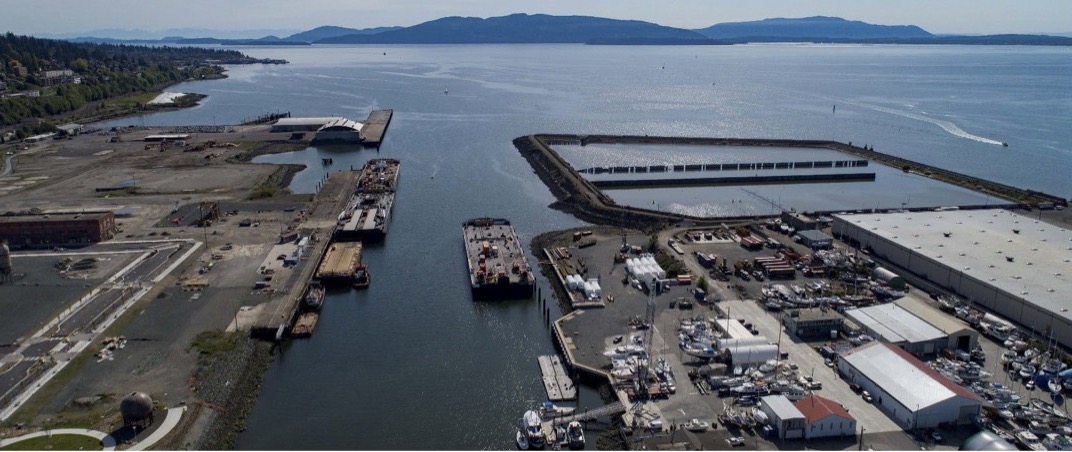 Get familiar with the cleanup and redevelopment process along Bellingham's waterfront! This site, Whatcom Waterwaym, has sediment contaminated with toxic substances from past industrial operations. You can have a say in how the WA Department of Ecology might address the contaminants!
Our walking tour has passed, but check out the video tour below. Public comment is open between April 24th to May 23rd. You can comment online here during those dates.
This 700+ acre site is in Bellingham Bay, south of the Holly Street bridge. Sediment here is contaminated from past industrial waterfront activities, including discharges from the former Georgia-Pacific chlor-alkali plant, wood waste and degradation products from historic log rafting activities, and pulp mill wastewater discharges. Studies conducted as part of the cleanup process have shown mercury, 4-methyphenol, and dioxin and furan compounds in sediment at concentrations that exceed state requirements under the Model Toxics Control Act (MTCA).
See a fact sheet on Whatcom Waterway from Ecology.
Key dates
Public Tour: Wed, May 3rd, 3:30–5:00pm. Meet outside Granary Building next to Whatcom Waterway
Open House (hosted by Ecology): May 3rd, 5:00–6:00pm. Meet inside Granary Building in blu.ink Collective Multipurpose Room
Comment Period: April 24th to May 23rd. You can comment online here during those dates.
This work is funded by a Public Participation Grant from the Washington Department of Ecology. Learn more about our work on Bellingham Bay cleanups here.