The tulips are in bloom, the songbirds are singing, and the governor's pen is gliding across new legislation. It must be spring! The 2023 Washington State Legislative Session came to a close on April 23rd, and as usual, it was a bit of a rollercoaster. Beyond the regular legislative process of proposing, modifying and passing bills, this session included the development of various state budgets for the next two years (known as the "biennium"). As you can imagine, determining what the state spends money on and how much is pretty crucial to the success or failure of our region's climate and environmental priorities.
Overall, RE Sources' policy and budget priorities fared well. That's thanks in no small part to the 540 Legislative Action Team members and fellow supporters who contacted lawmakers 5,475 times regarding our environmental priorities for Northwest Washington. Moreover, 37 people signed up to lobby for legislation aimed for legislation supporting clean and abundant water. Our collective voice was heard loud and clear. Thank you for speaking up. With that, let's get into the big wins for this session, along with the work still left to be done.
Wins for Northwest Washington
1. Climate-Smart Land Use Planning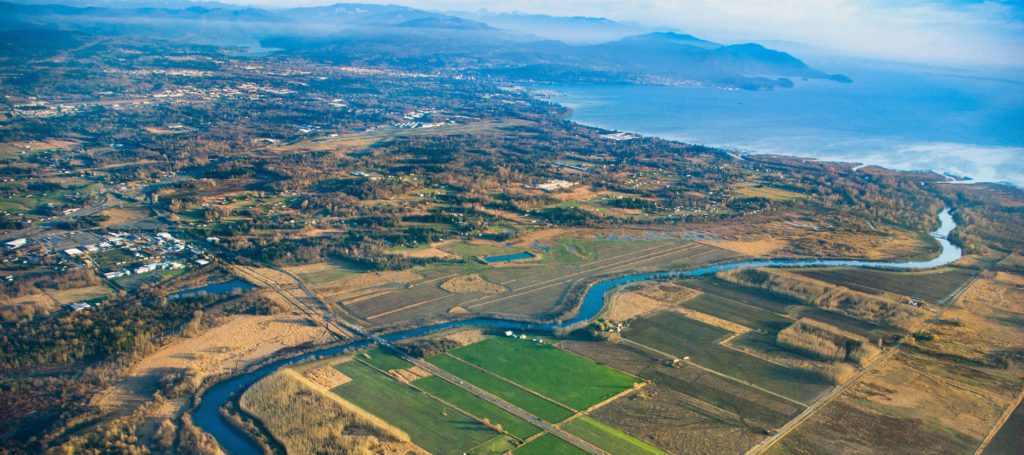 Photo by Brett Baunton / Wild Nooksack
Perhaps the most consequential environmental bill to pass this session was HB 1181 — previously known as "Washington Can't Wait." RE Sources and allies across the state have been pushing to pass this legislation for years, finally crossing the finish line this year. This bill, which now awaits a signature from the governor, provides a pathway for local jurisdictions to weave carbon reduction and climate adaptation into their comprehensive plans, which guide how, when, and where future development happens. The bill would support counties in creating their own climate solutions rooted in environmental justice and tailored to their communities.
Last month, the Washington Department of Commerce released a new report that predicts our state will need to build over 1 million housing units over the next 20 years in order to meet the housing demand. You read that right — 1 million. Without smart land use, this growth will result in sprawl overtaking farmlands, floodplains, and forests. Reckless sprawl not only adversely impacts the agricultural economy, but also undermines our region's climate resilience by degrading wildlife habitat and water quality. RE Sources is currently tracking Whatcom County's comprehensive plan update process, which is slated to be complete in June 2025. Stay tuned for opportunities to get involved in this effort.
2. Preserving Legacy Forests on State Public Lands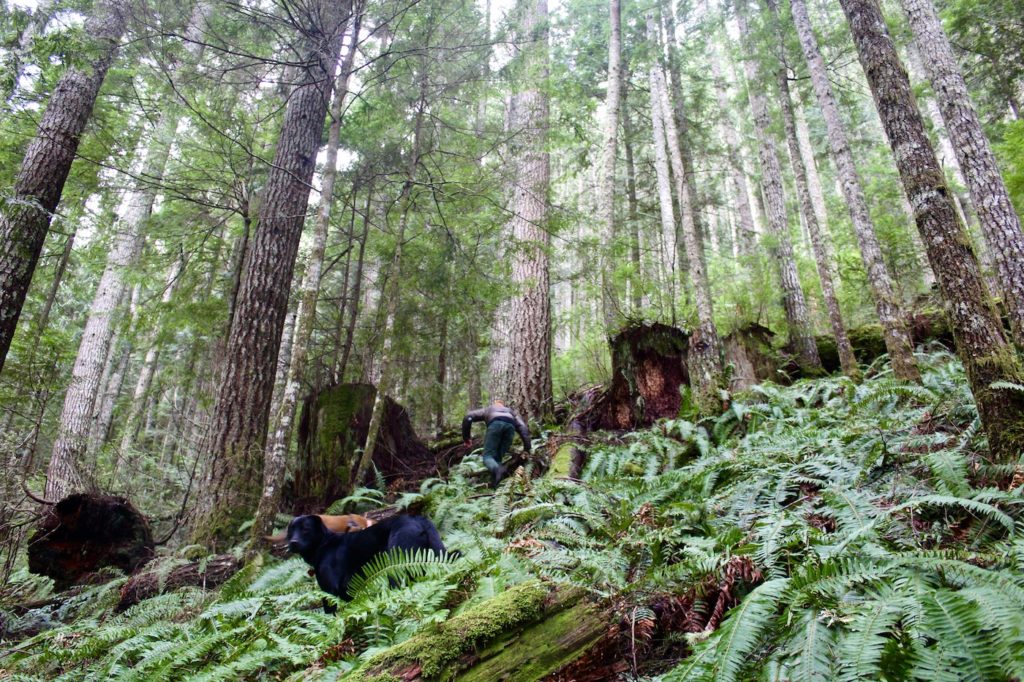 One of our top priorities this session was advocating for two programs that would give the Department of Natural Resources (DNR) increased flexibility to preserve mature native forests on state land while ensuring that schools and other beneficiaries are not adversely impacted. Fortunately, the legislature heard our calls and acted to authorize both programs.
Flexibility in managing forestlands for multiple benefits
One of these programs is DNR's Trustland Transfer (TLT) program. We supported the TLT Revitalization bill (SB 5372), which sought to expand DNR's ability to protect state-owned forestlands with high conservation value. Most DNR forestland is logged to generate revenue for specific beneficiaries, an archaic model developed a century ago to fund schools, libraries, and other public services. The TLT program was created in the late 1980s to allow DNR to decouple logging requirements from specific tracts of land, and instead protect these forests to provide ecological and public benefits — all while making the beneficiaries whole. The TLT revitalization bill that just passed the legislature makes this program more transparent, more consistent, and more effective in meeting its objectives.
Climate Commitment Act Funding for Legacy Forest Protection
The other program is more wonky… but arguably more important! As you may have heard, Washington's new Cap & Invest program (known as the Climate Commitment Act, or CCA) went live earlier this year. The CCA is an innovative approach to auction carbon credits to big polluters, then invest that revenue in solutions that reduce carbon emissions and enhance climate resilience. The legislature decided to allocate $70 million to protect legacy forests on state land, the first time the state has funded the protection of recognized mature, unplanted forests as part of our climate strategy! This is a major win for legacy forests, and could yield protections for the Brokedown Palace Timber Sale and other similar forests here in Whatcom County.
The CCA money will allow DNR to buy replacement land so that "structurally complex, carbon dense forest" on state land can be protected without negatively impacting the beneficiaries. Unfortunately, the funding can only go towards protecting a maximum of 2,000 acres of legacy forest, which represents a fraction of the legacy forest acreage on the chopping block. The package also includes $10 million for DNR to do more thinning work and $2.5 million to convene a stakeholder group that will discuss legacy forests, sustainable harvest levels, and other pressing topics. In all, this investment will give DNR greater flexibility to manage our forests for multiple benefits — rather than predominantly focusing on intensive timber production.
From Promising Bill to Poison Pill
Lastly, DNR introduced a forest-carbon bill (HB 1789) that would have created a third avenue to protect mature forests without harming beneficiaries. Originally, the environmental community was very supportive of HB 1789 because it would have authorized DNR's pilot carbon program, which yield protections for the Bessie Timber Sale (here in Whatcom County), and could lead to the protection of other important legacy stands in Whatcom (such as Brokedown Palace). Unfortunately, the timber industry lobbied hard to sneak a handful of poison pills into the bill, which would have done far more harm than good. We teamed up with our allies to successfully kill the bill. Let's hope the legislature gets this policy right next session.
3. Salmon Recovery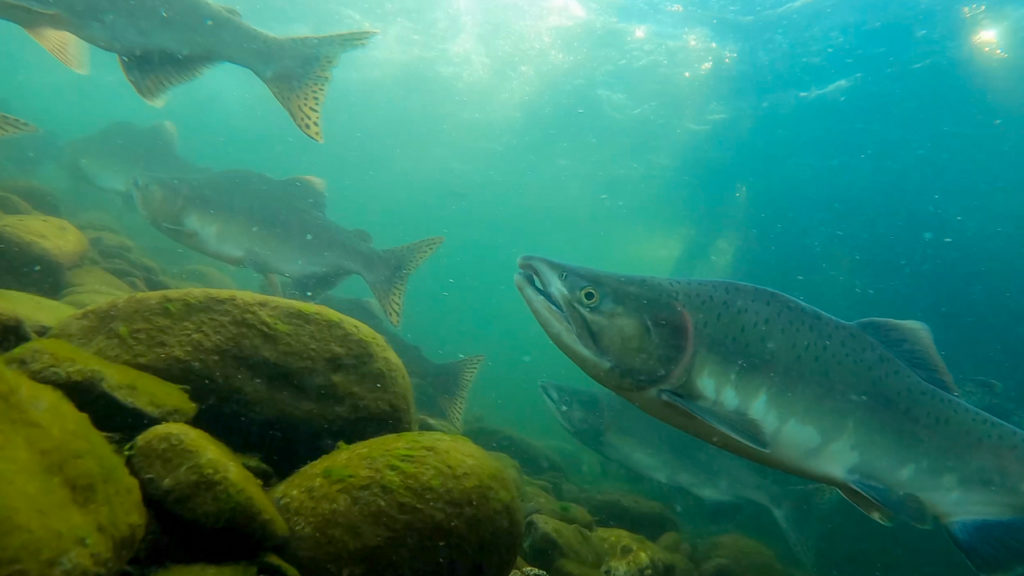 One of the most exciting developments from the legislative session was the influx of spending going towards salmon recovery programs. Across the board, the legislature increased salmon spending by roughly 10-20% for salmon recovery projects! Every year, a lack of funding stalls most locally vetted salmon recovery projects, which is why RE Sources and our partners called on the legislature to right-size salmon investments for the future. While the final budgets were not as substantial as we had hoped, this influx of additional funds will help address the backlog of already-identified habitat restoration projects.
One particular funding item of local significance is the Acme Floodplain Project, a proposal by Whatcom County to mitigate flood risks and restore salmon habitat in the South Fork Nooksack River through the Puget Sound Acquisition & Restoration Program (PSAR). Thanks to the leadership of our local elected officials, the legislature increased the original PSAR budget to include funding for the Acme Floodplain Project, which is good news for the fish and people who call the South Fork home.
Nooksack Adjudication
Another big take-away from this legislative session: the Nooksack Adjudication is fully funded and slated to begin this fall. Headed by the Department of Ecology, the Nooksack Adjudication will clarify who holds existing water rights, and how much water each user is due. Notably, adjudication will also quantify the treaty-protected water rights of the Nooksack Indian Tribe and Lummi Nation for the first time, which will determine how much water must remain instream to benefit salmon populations. The adjudication process can also coincide with a collaborative and integrated process to address the Nooksack basin's most pressing water challenges — they are not mutually exclusive. Learn more via Nooksack Tribe and Lummi Nation.
A related bill (HB 1792) introduced by Rep. Timmons (42nd District) gives water rights claimants additional time to file their appropriate paperwork and provides funds that will help with filing assistance. This will give farmers, rural folks, and others with water rights the time and resources they need to get their paperwork filed correctly. This bill passed the legislature and was signed into law. We will provide additional details in the months ahead as the adjudication process nears.
4. Clean Energy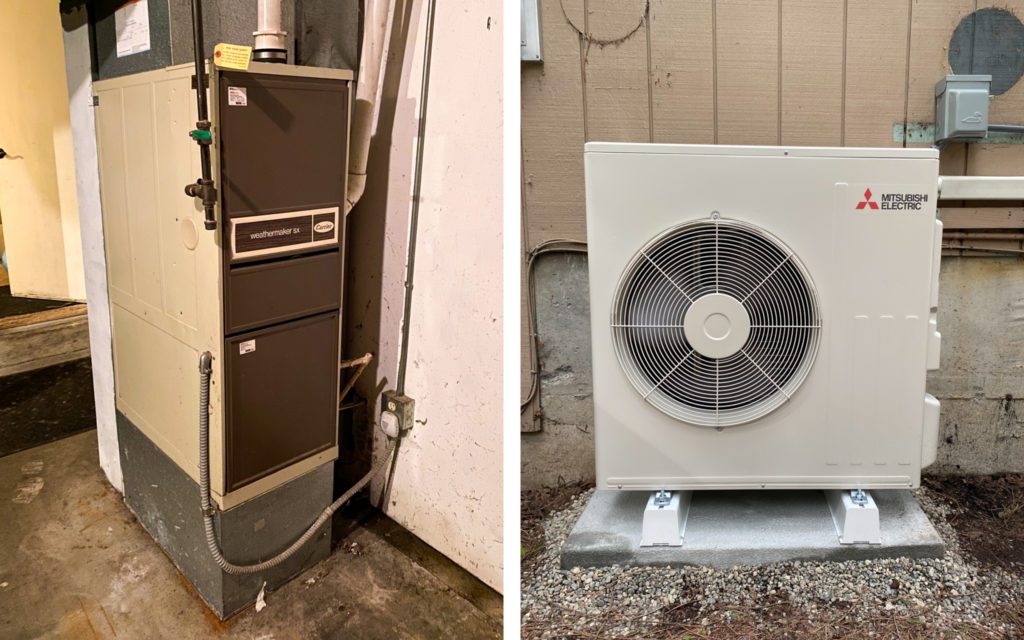 Knocking Down Cost Barriers to Heat Pumps
Buildings, from homes to commercial offices, are the fastest growing source of greenhouse gas emissions in Washington, and getting buildings off of climate- and indoor air-polluting natural gas is one of the most impactful pathways to reversing that trend. While heat pumps heat more efficiently, eliminate indoor air pollution that comes with natural gas appliances, AND offer the added benefit of cooling in a region that is seeing an increase in deadly heat waves, building owners looking to go electric face steep up-front cost barriers.
To help remove those barriers, we encouraged the Legislature to allocate $115 million in CCA funds toward a program subsidizing heat pumps and other efficient electric appliances that prioritizes low- and moderate- income households, and small businesses. In the end, they allocated $80 million to the program, paired with $40 million in funding for weatherization and energy efficiency projects.
Both programs complement $83 million in federal funding coming to Washington for heat pumps. Taken together, these legislative wins mean transitioning off gas just got more accessible for low and moderate-income families.
Siting Clean Energy
HB1216, the clean energy siting bill of 2023, is awaiting the governor's signature after passing with bipartisan support. The act serves to streamline project development for wind and solar power infrastructure as well as alternative fuel production at new facilities. A standardized environmental review program will commence for particular types of projects with aim to streamline permitting, and new project applicants are assured that Environmental Impact Statements will be finalized within a two-year timeframe. While we have some concerns about details of this legislation, there remains ample room for engagement from ecological advocates in forthcoming processes to ensure the clean energy transition accelerates in Washington without jeopardizing ecosystems, holding firm that emerging industries should be held to the highest standards to avoid adverse impacts.
In a related effort at the local level this spring, Whatcom County Council is considering an ordinance to amend development rules for wind turbines — with aim to remove arbitrary barriers while ensuring protections for habitats and residents.
Tax Changes in Support of Renewable Energy
HB 1756 supports renewable power generation through a tax change, exempting solar and wind facilities from being subject to property taxes. Instead, they'll pay an excise tax into a new fund that allocates revenue locally to counties, tribes and school districts. This measure passed with bipartisan support and awaits the governor's signature.
5. Clean and Abundant Water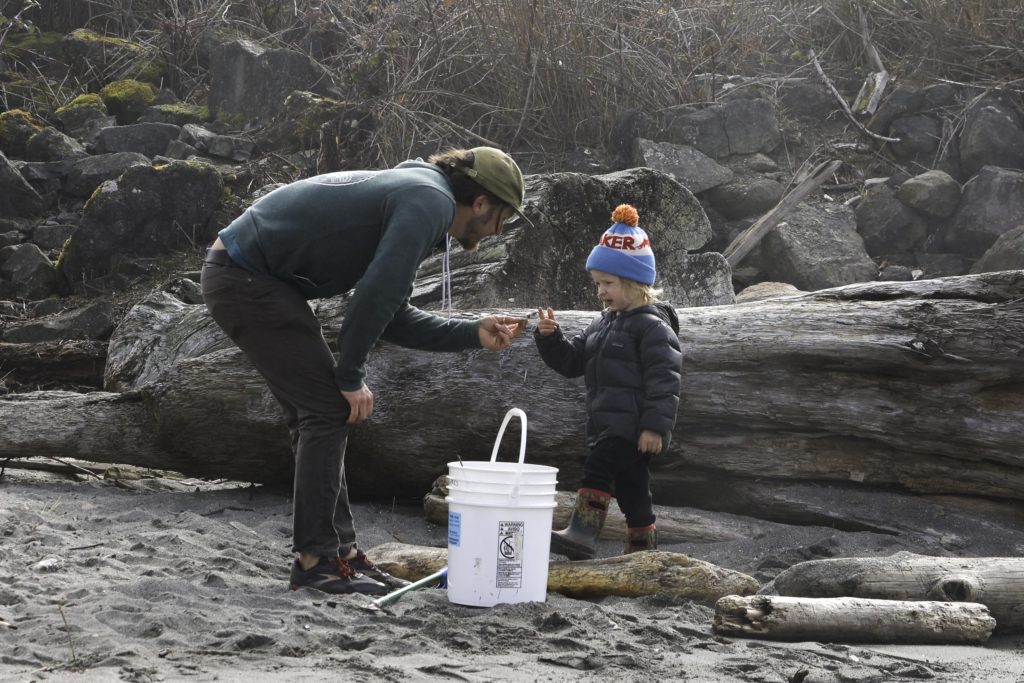 The Plastics Trifecta
The Trifecta Plastics Bill, HB 1085, passed this year, meaning that 1) plastic mini-toiletries in lodging establishments will be phased out, 2) bottle refill stations will be installed with drinking fountains in new buildings, and 3) Installation of new open cell foam docks will be banned. Good riddance to the tiny pieces of plastic foam from docks we find spilling into our waterways and washing up on our shores.
More wins for Clean & Abundant Water
We partnered with fellow Waterkeeper organizations across Washington to lobby our state lawmakers regarding four priority bills related to water quality and quantity. With the help of volunteers across the state, we saw all four of those bills end up succeeding or failing as we'd hoped.
In addition to HB 1085 regarding plastics and full funding for Nooksack adjudication (see above), SB 5369, which will stop the entry of inadvertent PCBs into our waterways, passed and is heading to the governor's desk! Moreover, SB 5517, which was a bad bill we opposed regarding the instream flow rules related to the 2015 Foster Decision, because it would not solve our water supply issues and could complicate them more, did not make much movement and died.
Protecting Shorelines
SB 5104 also made it to the governor's desk. The bill directs the Department of Ecology to conduct a shoreline survey on a two-year cycle to identify abandoned, illegal, and other shoreline structures as well as updating requirements for marine structures. The information collected during these surveys will fill data gaps and inform recovery actions to benefit herring, salmon, orcas and the broader marine food web.
Missed Opportunities for the 2023 Session
A few priority environmental bills did not make it through the legislative process in the 2023 session. We might eventually see future iterations of these legislative efforts become law, but it wasn't in the cards for this year. Rest assured, your support on these bills may still have an impact. Positive support can build momentum and affirm that these policies are worth refining and bringing forward again.
Failed (this time) – Clean Energy Navigator
As billions of dollars for climate and energy investments flow into Washington communities from federal (the Inflation Reduction Act), state (the CCA and more) and local sources, it's critical that individuals and communities be able to access the funds available to them as easily as possible. That was the idea behind the proposed Clean Energy Navigator bill proposed by 40th District State Representative Alex Ramel. Alas, the bill didn't make it through this session, but we'll continue to advance policies and tools that support people and businesses in accessing clean energy incentives, rebates, funding and resources.
Failed (this time) – WRAP Act
Currently, over 50 percent of consumer packaging and paper in our state goes to landfills instead of getting recycled. This bill was designed to cut down on unnecessary packaging and improve our recycling systems by creating a "producer responsibility system." While the Washington Recycling and Packaging (WRAP) Act (HB 1131/SB 5154) ultimately didn't pass this year, the bill gained significant momentum thanks to community support. Lawmakers plan to put forward a similar bill next year as these extended producer responsibility (in this case, making producers of wasteful packaging pay for the end of life of that packaging) bills gain the traction needed to make it over the finish line. Stay tuned for next year.
Failed (this time) — Limiting Methane Gas Pipelines
HB1589 would have set us up for a clean energy future by limiting extensions of new methane gas pipelines, which lock us into increased emissions for decades. It's essential we stop digging the hole deeper with new gas infrastructure. Unfortunately, gas utilities fought hard against this bill, despite the fact that harmful methane leaks at every step of the journey from fracking wells to sprawling pipelines to household appliances. This was an ambitious bill, the likes of which often take more than one year in the legislature to become reality (look at HB 1181 at the top of this piece, which took three rounds of lawmaking to pass!)
It's your state. Thanks for looking after it.
If you were one of the hundreds of Northwest Washingtonians who spoke up in support of legislation during this year's session, thank you! If you didn't get a chance to take action this year, make sure you're signed up for our emails, and consider signing up for our Legislative Action Team. We send these folks an email roughly once a week during each state legislative session (the next one will begin January 2024). The emails provide a list of quick online actions and even some in-person opportunities to make sure the environmental and climate issues you care about are addressed. Alright, that's enough for today, you policy wonk. Go outside and get some fresh air.