Originally published in The RE Store's blog. The RE Store Whatcom County's source for reclaimed building materials, vintage décor, building salvage services, DIY inspiration and more, operated by RE Sources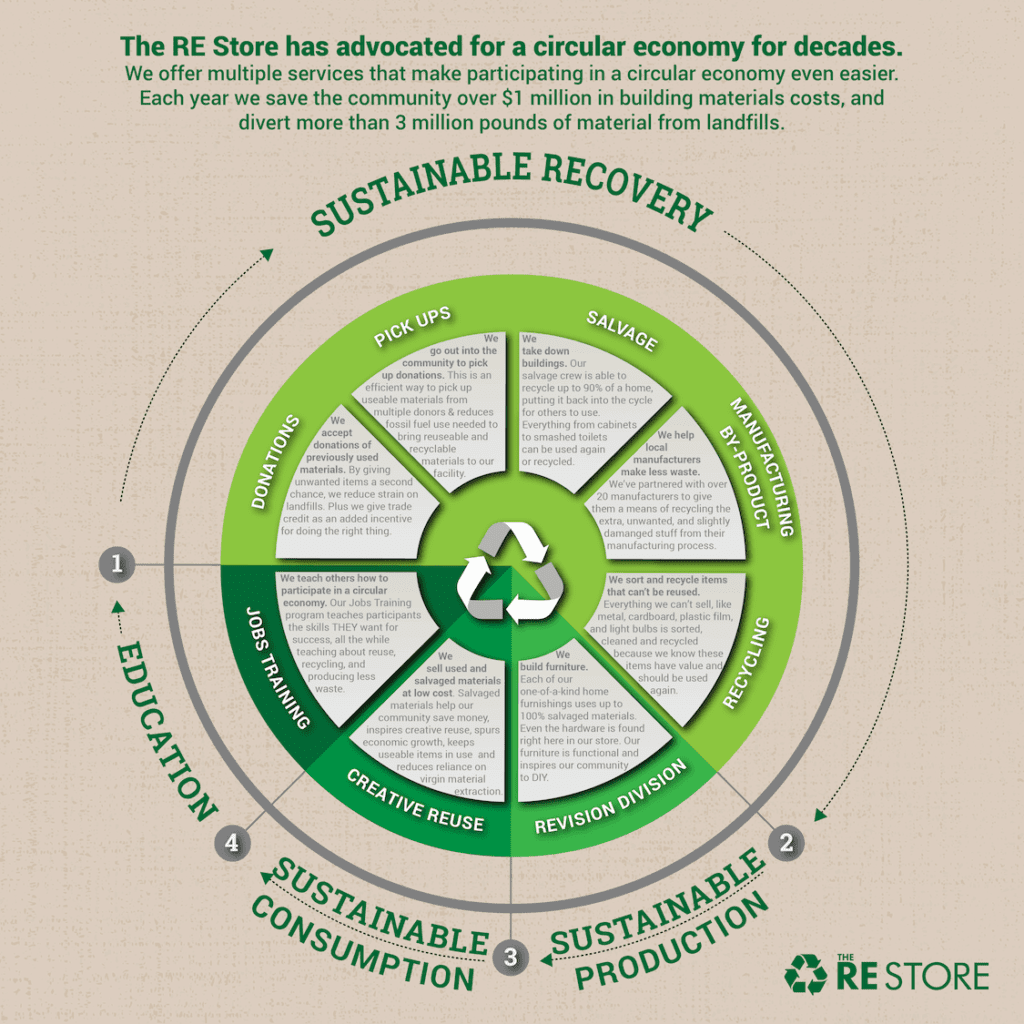 Have you heard the term circular economy? It's been in the news lately and is often discussed as a form of climate action.
In fact, the United Nations states "The world can maximize chances of avoiding dangerous climate change by moving to a circular economy." They go on to define a circular economy as "a regenerative system in which resource input and waste, emission, and energy leakage are minimized by slowing, closing, and narrowing energy and material loops." But what does that mean?
Put simply, a circular economy is one in which we as a society make less waste, reuse materials, and rebuild our natural systems. It's a lot more complicated than it sounds, but it's also quite simple.
The overarching concepts of a circular economy include designing out waste and pollution in our production and manufacturing processes, keeping products and materials in use longer through upcycling, repair and recycling, and rebuilding natural systems.
It's been our work for decades
We at The RE Store have advocated for a circular economy for decades. In fact, we care so much about the concept of a circular economy that we designed our services to serve the needs of a circular economy. And it's working. Each year we save the community over $1 million in building materials costs, and divert more than 3 million pounds of material from landfills.
We accept donations of previously used materials. By giving unwanted items a second chance, we reduce strain on landfills and ensure useable materials are made available to others. Plus, we offer an incentive for donations in the form of trade credit and tax receipts.
We go out into the community to pick up donations. This is an efficient way to pick up useable materials from multiple donors and reduces the amount of fossil fuels needed to bring reusable and recyclable materials to our facility.
We take down buildings. Our salvage crew is able to recycle up to 90% of a home, putting that material back into the cycle for others to use. Everything from cabinets to smashed toilets can be reused or recycled. This is important because 60% of the material in our landfills is construction and demolition waste.
We help manufacturers make less waste. We've partnered with more than 20 local manufacturers to offer a means of recycling the extra, unwanted, and slightly damaged material from their manufacturing process.
We sort and recycle items that can't be reused. Everything we can't sell, like metal, cardboard, plastic film and light bulbs is sorted, cleaned and recycled because we know these items have value and should be used again.
We build furniture. Each of our one-of-a-kind pieces is comprised of up to 100% salvaged material. Everything down from the hardware is found right here at our store. Our furniture is functional, but it also inspires members of the community to DIY. We also build fixtures for businesses in town – check out Evolve, Village Books, The Willows, Brandon Nelson Partners and others to see our pieces in action.
We sell used and salvaged materials at low cost. Salvaged materials help our community save money, inspires creative reuse, spurs economic growth, keeps useable items in use and reduces reliance on virgin material extraction.
We teach others how to participate in a circular economy. Our jobs training program teaches participants the skills THEY want for success, all the while being teaching about reuse, recycling, and producing less waste. We believe that by supporting the basic needs of our community, providing accessible education and giving people the right tools, we can make a smoother transition to a more sustainable economy.
Look, there's no silver bullet for helping to create a more sustainable community. By shopping and donating to businesses that operate within a circular economy model, your actions go further than you think. Next time you need to run to a big box store for something "real quick", take a moment to see if you can find it a thrift or reuse store. And next time you go to toss something in the trash (including that cabinet set or box of unused tile) donate it to a place that will offer it up to someone else. If you need help, give us a call. We're always happy to help!