How does the food web stay in balance in our corner of the Salish Sea, and what threats to that balance do we face? Join the Cherry Point Aquatic Reserve Citizen Stewardship Committee for the 8th annual Cherry Point Science Forum. This year's focus will be on food web interactions and how delicate the balance is between predator and prey.
Speakers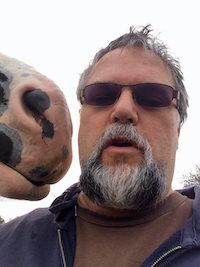 "The Role of Marine Birds in the Cherry Point Food Web," with Dr. John Bower of Western Washington University on marine bird monitoring, including at Cherry Point and looking at comparisons between current and past monitoring
Dr. Bower will use Cherry Point Aquatic Reserve Bird Survey data to profile species of birds that commonly utilize food resources in the Cherry Point area. Participants will learn about historical and more recent marine bird abundance changes in the Cherry Point area, and we'll examine the ecological relationships between Cherry Point birds and aquatic food resources, including forage fish, forage fish spawn, aquatic plants, benthic organisms, and plankton. About the speaker: John Bower has spent 40 years studying the natural world. Getting his start as a birdwatcher, his research includes acoustic communication in bowhead whales and song sparrows, foraging competition between hummingbird species on a remote Chilean island, and the population ecology of Pacific Northwest marine birds. John has taught a wide variety of courses at Fairhaven, including "Environmental Photography," "The Music and Science of Natural Sound," "The Human-Animal Connection," "Evolutionary Medicine," and "The Folk Music Experience." John is currently the Dean of WWU's Fairhaven College of Interdisciplinary Studies and recommends that your children and grandchildren consider attending Fairhaven – it is a great college!
"The Hooligans of the Nooksack River," with Dr. Rachel Arnold of Northwest Indian College on finfish of the Nooksack River. Dr. Arnold will talk about population structure and biology of the Hooligans (Spirinchus thaleichthys) of the Nooksack River, WA. About the speaker: Dr. Rachel Arnold is the Associate Director of the Salish Sea Research Center at Northwest Indian College. She oversees a variety of genomic research programs, including population dynamics of the Longfin Smelt and community dynamics of microeukaryotes in Bellingham Bay, WA. She also teaches Genetics and Evolution at the college and engages students in a variety of culturally-relevant genomics projects.
Share and see details on Facebook
See previous year's science topics and recordings