Healthy coastlines with abundant shellfish and eelgrass; thousands of herring darting in great silver clouds just offshore, forming the backbone of the salmon-orca food web; a Salish Sea ecosystem and fishing economy resilient to the warming climate. All people in the region benefit from, and can contribute to, this vision for our Pacific Northwest home.
It's time we make that vision more inclusive.
RE Sources staff collectively have a few decades under their belts of working with volunteers to gather important data about shoreline wildlife that wouldn't otherwise be measured. Our shorthand term for these awesome volunteers—like many other organizations that help crowdsource science information—was "citizen scientists."
For a long time, "citizen science" felt right. It evoked doing one's civic duty, being part of something bigger. But the word has been limiting, creating a barrier for local residents who want to better their community and who may not be U.S. citizens.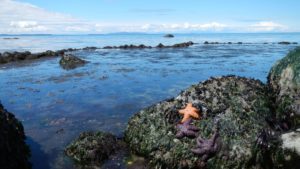 At the end of the day, creating a community is really what we're trying to do—a community of volunteers turning over rocks, kayaking into bays, getting their feet wet (literally) with a group of like-minded people to help study marine life, even if they have very little experience in science. RE Sources and the North Sound Stewards program's goal is to make sure government agencies and policymakers understand the health of the lands they're tasked with managing. Someone's nationality has no bearing on their contributions to protecting the ecosystems we all live in.
We firmly believe that everyone who lives here, who calls the north Puget Sound and Salish Sea their home now, who looks into tidepools with wonder and wants to learn more, deserves to benefit from local science. We want everyone to feel like they're an integral part of the work to protect these special places—because they are.
Please note: We are still in the process of updating our website to reflect this shift. Thanks for your patience!
Learn more about community science's impacts and how you can get involved