Vegetable Stock recipe
Making stock is a great way to use vegetable scraps to make a flavorful base for soups or other dishes like rice. And it's pretty simple!
What you need:
large stockpot or any large pot in the kitchen,
strainer, and
jars or a container to store the stock in
Ingredients and steps

You can use just about any vegetable in making the stock, there are no rules. Some people don't use broccoli, cabbage, or turnips because they can make the broth bitter. You get to decide which vegetables you like best and you can make it differently every time!
Throughout the week or several weeks, save the scraps of vegetables when you are cooking other meals:

Onion skins and ends
Corn cobs
Carrot peels and ends
Mushroom stems
Leek ends
Celery leaves and ends
Asparagus ends
Kale stems
Leftover herbs
Squash skin

Save the scraps in a plastic bag and keep them in the freezer until you have enough to make the broth (roughly 4 or 5 cups of scraps)
When you are ready to make your vegetable stock, pull out your bag of scraps and put them in the large pot.
Optional: Add the following for additional flavor if you happen to have it

Herbs (thyme, rosemary)
Bay leaf
Half an onion
Garlic

Add salt and pepper now or at the end. These will all add more flavor!
Next, add 6-10 cups of water to the pot with the vegetable scraps. Start with 6 cups, then add more if you think you want more stock.
Turn on the stove burner, put a lid on the pot, and bring the broth to a simmer and cook for 1 to 2 hours.
That's all, be sure to set a timer so you don't forget about it!
After an hour or so, check on your stock. It will be hot, so be careful. Ask an adult to help you strain the liquid. You can scoop the vegetables out with a smaller strainer or slotted spoon, or you can pour the contents into a large bowl or another large pot with a colander or large strainer over the top. Compost the vegetables if you have one, or feed them to pigs, chickens, or goats, or place them in the garbage.
Let your stock cool and pour it into jars or whatever container you have around.
Label the container and stick it in the refrigerator or freezer and it will be ready for you when you want to make your next batch of soup.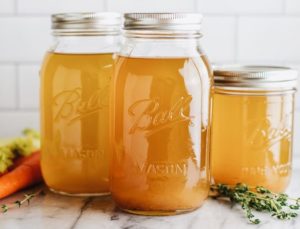 We want to see what you made!
Take a picture or video of you and your vegetable stock and send them to us or tag us on Instagram (@resources_protects)!