By Cambry Baker, RE Sources Youth Engagement Coordinator
RE Sources, alongside passionate local students, hosted the first Youth Climate Summit in Whatcom County this August. When we first began planning this two-day event focused on local climate solutions and centering youth, we had no idea what it might become. So, we contacted the experts in providing what high school students want — other high school students.
On August 4-5th, after months of meeting with a group of students planning the summit, building partnerships, and planning the event, the day finally came where high school participants from across Whatcom County gathered to tackle the climate crisis together.
The first day took place at Larrabee State Park, where students removed invasive English Ivy from native trees (with the help and partnership of Whatcom Million Trees Project) and learned how trees sequester carbon. After refueling with some local food, the group hiked to Clayton Beach to close out the day by listening to each participant tell their story of what brought them here and how they came to care about climate change. The answers were varied — but the deep care for the earth, and the people on it, was shared.
The next day we gathered again at Western Washington University, this time joined by college students in Western's Climate Leadership Cohort. We began by diving into the science behind climate change and how it impacts people differently. Then, students had the option to choose from three different concurrent sessions of workshops on local solutions, all led by local youth and community members. Participants explored how to engage in local politics as a student, charted paths to an environmental career with recent graduates, learned how to protect water quality, and even choreographed a dance for the climate. The day concluded with each student making a plan for taking climate action, and the group collaborating on ideas for how to stay hopeful in the face of climate change.
We were endlessly inspired by the youth who showed up, learned, and took action for the climate, but we want you to hear firsthand from our Youth Advisory Council, the students who planned and executed the summit, what the event meant to them.
"Attending the Youth Climate Summit made me feel more than just motivated, it helped ignite a developing passion for everything "Earth." I'll be forever grateful for this experience, and it helped me develop the building blocks I need to get more involved in environmental justice as a high schooler!" — Montana
From the Summit and YAC, I learned that there are many ways to approach meaningful topics such as the climate crisis… It takes lots of people to make a change, not just adults but the support and leadership from upcoming generations of youth. Getting to be involved as a youth makes this fight even more powerful. Plus it was fun and I got to meet new people!"

—Cassy
Being a part of planning the first Summit helped me realize we are not alone. It helped me not only develop leadership skills but learn that there is a community of people who think about the importance of our planet like we do. I am grateful to know that our efforts working on this summit help people with how they think and act towards this climate crisis. The climate is all around us so why don't we take care of it?"

—Sebastian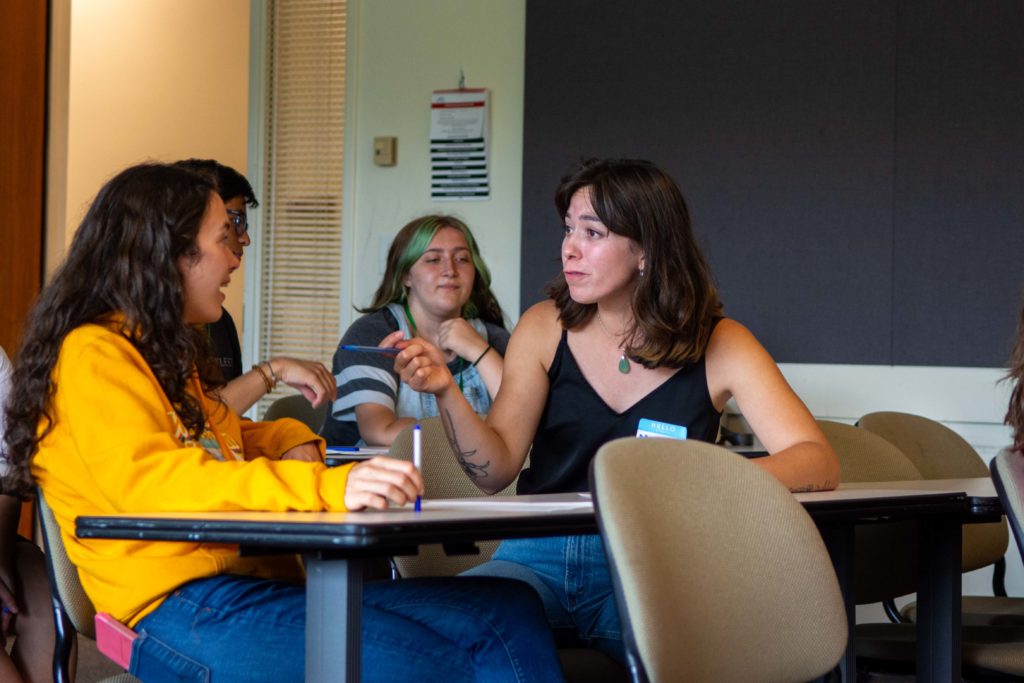 "Attending the Youth Climate Summit helped me realize the importance of discussing climate related issues in our community and empowering its residents to take action. So often we talk about the problems on our earth on a global scale, which can feel overwhelming and discouraging. To combat this feeling, I think it is important to stop and take a look at our own community and what we can do for the land and sea right in front of our eyes. This opportunity was one of my first steps in getting involved and I hope to continue taking part in environmental justice!" —Lydia
Too often, the climate conversation is centered around adults and can perpetuate a narrative of doom and gloom —especially among youth — that does nothing to inspire meaningful (or maintainable!) action. Youth are often told they will "inherit the future" and that their generation's commitment to change "gives us (older people) hope." But we know we owe youth more than words. They need spaces where their leadership is celebrated, where the narrative around climate change is one rooted in hope and resilience, and where they feel supported and resourced in taking action. We're celebrating the Youth Climate Summit for striving to do just this, and hope to keep learning how to better support youth with future summits!
P.S. If you're feeling inspired by the Youth Climate Summit, go support a student or give them a thank-you for the work they do! Better yet, ask how you can help.