Making a list of the best beaches in Whatcom County was not easy, because we love pretty much all of them. Whether you're visiting this wonderful area for the first time or you've lived here for years, we hope you'll find a new favorite place to soak up the sun, take in the sights, or marvel at the diverse life and geology our shorelines have to offer.
These beaches are all on the traditional lands of the Coast Salish Peoples, including Lummi Nation, Nooksack Indian Tribe and Semiahmoo First Nation. They have lived in the region from time immemorial and have stewarded these beaches for generations — so please take care when visiting. Here are some tips for recreating responsibly on all of these awesome beaches. Note: beaches on this list are organized from north to south.
Best beaches in Whatcom County
Semiahmoo Park: Birding, sandy beaches and tidepools
Semiahmoo Park, just southwest of Blaine, has a paved trail from the park entrance all the way to the end of Semiahmoo Spit, offering a great 360 view of the central Salish Sea, Drayton Harbor, and surrounding mountains in Washington and Canada. At low tide, there are even sandy beaches — a rare treat in Washington! (No disrespect to rocky beaches, which have incredible tidepools, but sometimes you just want to lay out a towel and read a book without getting jabbed).
Both sides of the spit have ample beach, picnic benches and a bird viewing telescope. You have great odds of spotting bald eagles, herons, osprey and seals. It's known for being a bird-watching spot in the winter, as well as during spring and fall migrations.
There's also a free cannery museum about historic industries in the area, open 1-5pm Friday-Sunday in the summer.
Birch Bay State Park and Point Whitehorn: Large multipurpose getaway
Birch Bay State Park, between Blaine and Ferndale, is a lovely getaway not too far from great amenities in the town of Birch Bay. It features a boat launch, multiple picnic areas, 147 campsites that you can reserve in the summer, and even a basketball court. Many of the campsites have a water view, and there are options for more secluded forested sites too. As with all Washington State Parks, you'll need a Discover Pass to park there. Campsites can be reserved via the Washington State Parks website.
Point Whitehorn is just around the corner south of Birch Bay State Park. It's the northern gateway to the 3,000 acre Cherry Point Aquatic Reserve, one of eight Department of Natural Resources preserves in the state. Point Whitehorn is a wonderful spot to tidepool and is regularly visited by our volunteer community scientists, who monitor plant and tidal animal life and share their findings with researchers who manage the Reserve's health. If you want to get on the beach and make a difference, becoming a community scientist with us might be for you — no experience needed!
Sunset Beach on Lummi Island: Worth the ferry ride
This 7-acre beach is quiet, great for kids and dogs and offers an amazing view. It's only accessible via a passenger ferry to Lummi Island, so make sure to plan ahead and potentially leave your vehicle on the mainland. Some parking is available across from the Willows Inn. Not all of the best beaches in Whatcom County are easy to get to, but they're all worth the effort!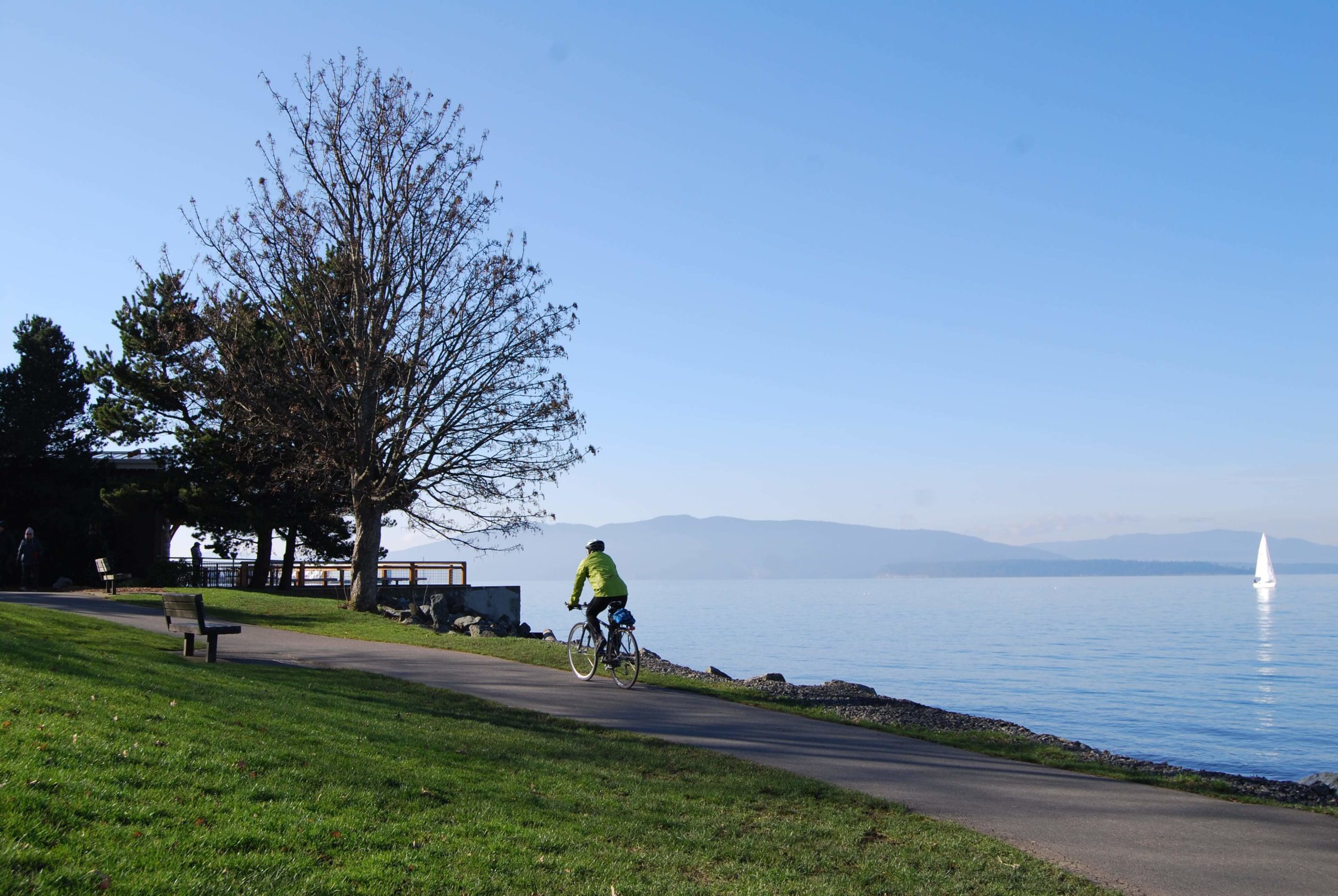 Boulevard Park in Bellingham: Lovely boardwalk and tucked-away beachfront
This popular park with a boardwalk between Fairhaven and downtown Bellingham has some nice tucked away beachfront (if you can snag it on a sunny day). Under the foot bridge just south of the cafe are some tidepools, which are a good place to find huge sea stars. It is also a nice beach protected from wind, making it a calm spot to lounge on a log or lay out a blanket. It's also close to several cleanup sites in Bellingham Bay where agencies are working to remediate the waterfront's 100+ years of industrial history.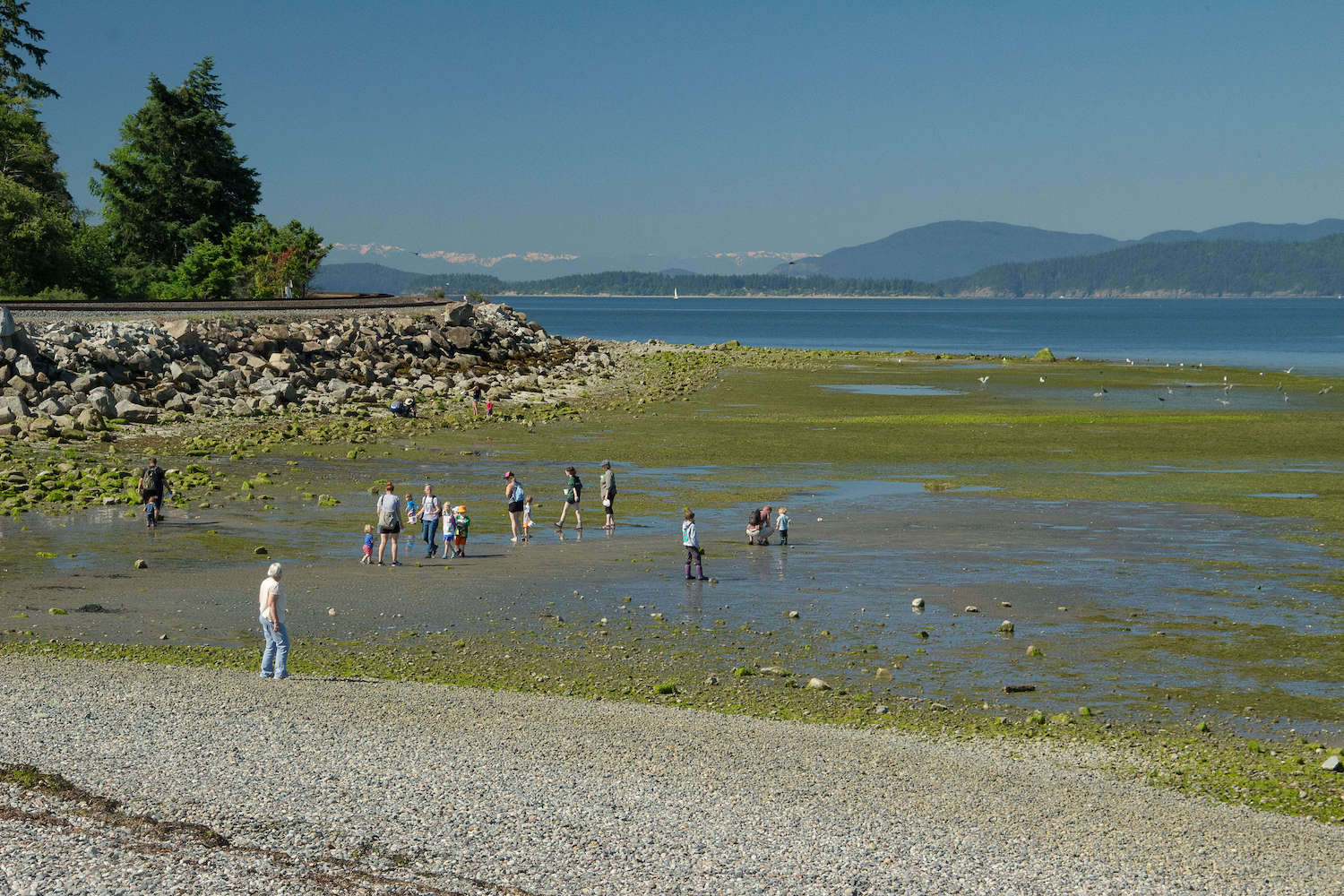 Marine Park in Bellingham: Stellar low tides close to town
This humble park only measures 1.9 acres, but it's a gateway for wonderful tidepooling walks. The beach is gently sloped and very accessible, and at low tide you can spot sea stars, anemones and crabs galore. Marine Park is a popular Bellingham beach for launching kayaks and paddleboards. It's a great spot for a family outing, with a recently renovated picnic shelter and close to the Fairhaven district of Bellingham.
It's also a success story for local beach restoration — in 2004, the beach you see was carved out after removing large boulders and debris, providing better storm protection and habitat.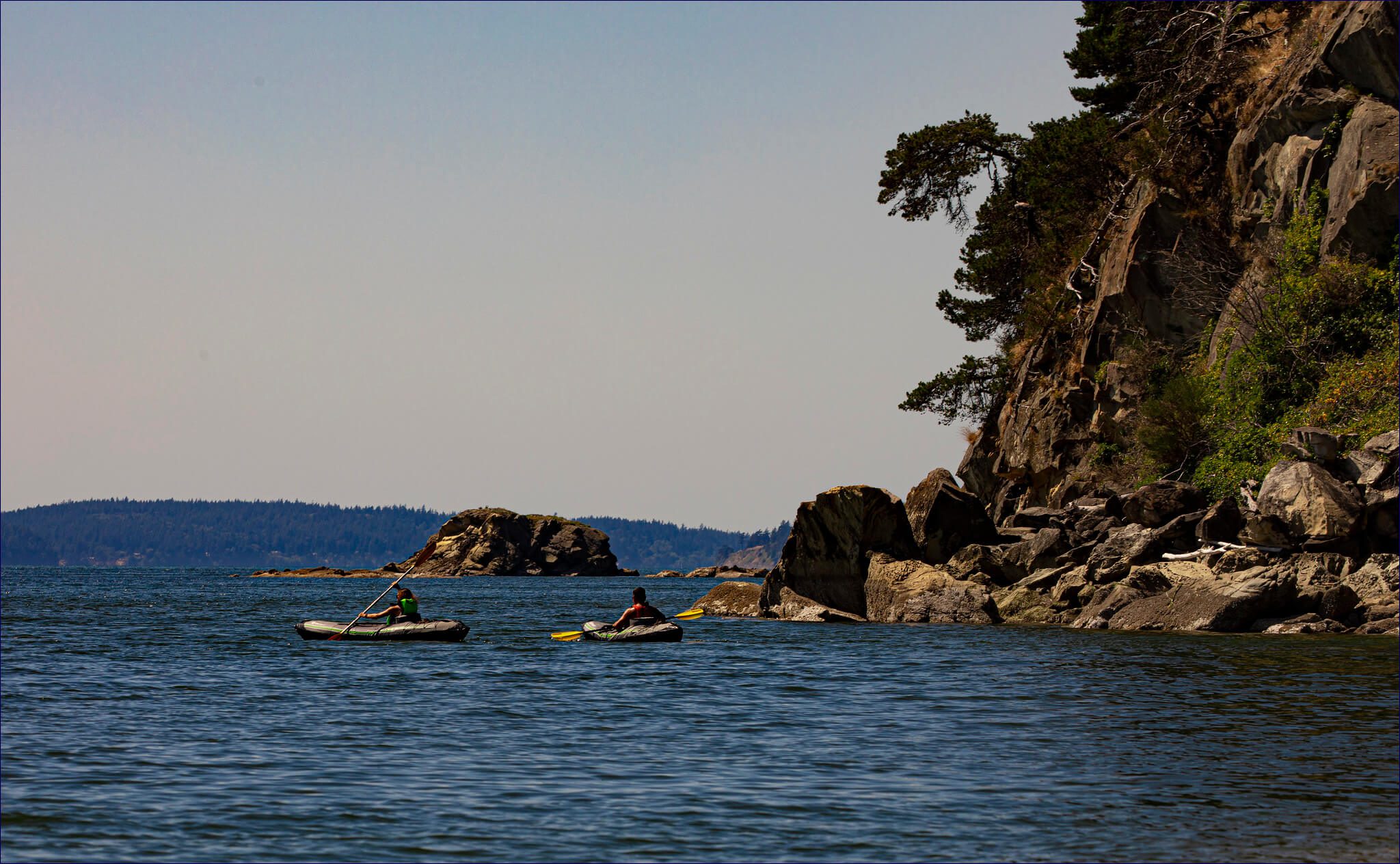 Wildcat Cove at Larrabee State Park: A great spot to paddle
A breathtaking spot at Larrabee State Park is Wildcat Cove, a little south of the boat launch and main parking lot. It's a favorite place of kayakers and canoers, and has lovely wind-carved sandstone formations. Ocean critters and seabirds abound at this beach very close to the Larrabee parking lot.
Since it's part of Larrabee State Park, you can combine a trip to the cove with the other awesome places along the 1.5 mile stretch of beach, or even get a camping spot if you plan ahead! Larrabee also has a boat launch, 1.5 miles of bike trails, 2.7 miles of hiking trails, a boat launch, amphitheater and many picnic benches and shelters.
Clayton Beach at Larrabee State Park: Enjoy a rare Washington sandy beach
Before you email us, yes, we know Clayton Beach is technically in Skagit County. But since Larrabee crosses the Whatcom-Skagit border, we'd be remiss if we didn't mention this great place. Clayton Beach is known for its gorgeous sandstone formations and has a nice sandy beach — one of the only ones in the whole state. Note that this beach might have accessibility issues before Spring 2023, as you must walk across a railroad to get there — but a pedestrian bridge from the Lost Lake parking lot over the railroad tracks will be built.
You can access Clayton Beach via the interurban trail that runs parallel to Chuckanut Drive, if you want to bike or hike in. Fun fact: you can also do metal detecting at many state parks, including Larrabee State Park, if you fill out a quick form!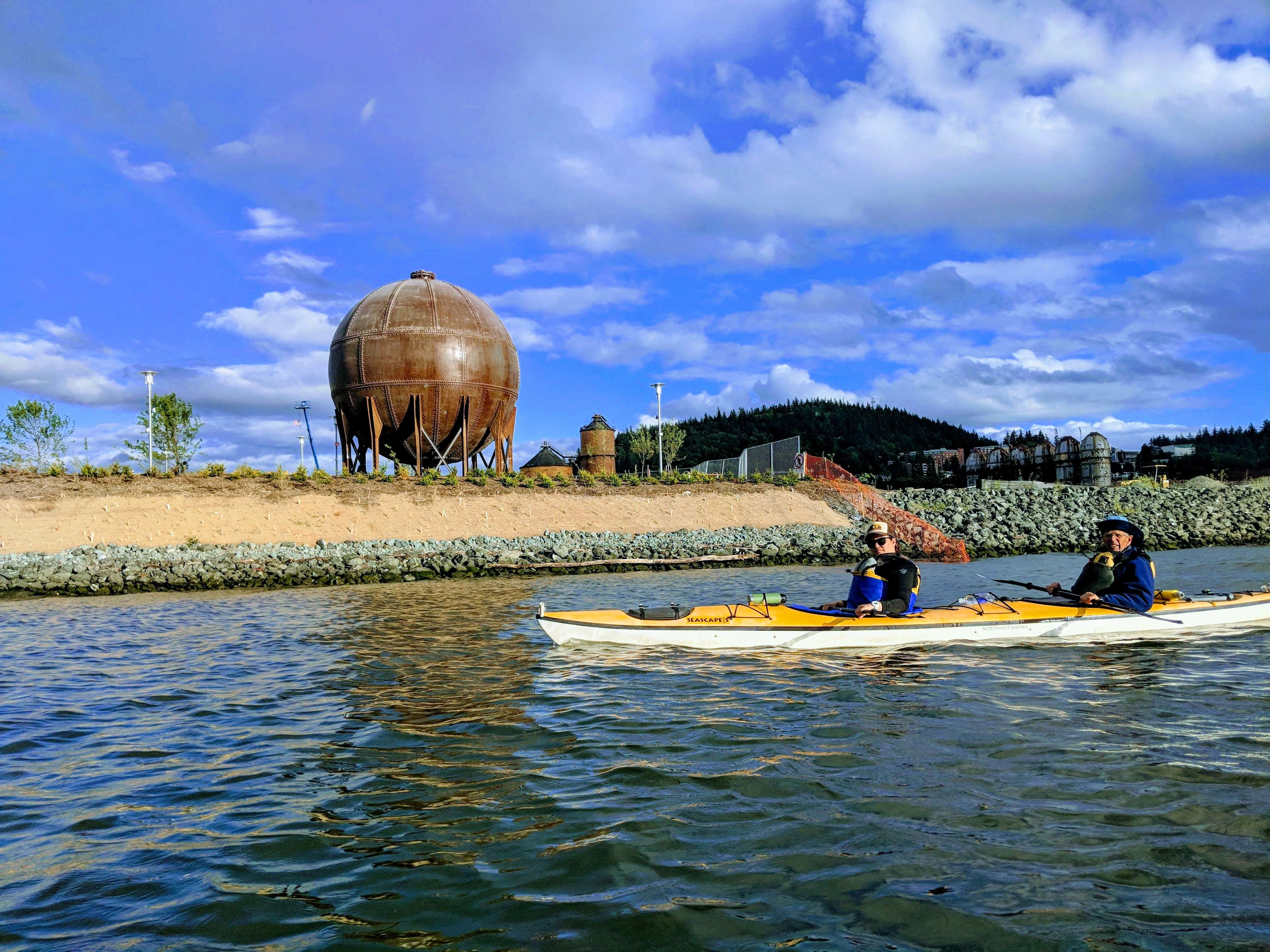 7 ½: Waypoint Park, a small "pocket beach" near downtown Bellingham
Waypoint Park – home of the 400,000 pound, eye-catching acid ball – is an example of what can become of some of our old industrial sites, after legacy pollutants left behind from the GP pulp and tissue mill were cleaned up. A tiny pocket beach was constructed in 2018, creating habitat for young Chinook salmon as they leave their freshwater hatching grounds to grow accustomed to the saltwater they spend adulthood in. In fact, the city added pocket beach to the design of Waypoint Park after getting input from the public.
It may not have huge sea stars or intricate sandstone sculptures, but it's well worth a visit if you're in town!
If you're a fan of Whatcom County beaches and want to help take care of them, check out these nine easy tips for enjoying beaches responsibly. You can also volunteer as a Beach Steward, offering interpretation for those with questions about marine life and ecosystems, as well as responsible recreation practices. We'll train you! Reach out to Eleanor Hines at EleanorH@re-sources.org to learn more or get involved.