Ahead of the 15th annual Orca Month recognized each June, some cause for hope graced our news feeds. The endangered Southern Resident orca population, hovering right around 75 members, saw two new healthy calves born. It's a promising sign for the orca families, but also a stark reminder that the existence of these animals — who have strong familial connections and complex communication that most humans could envy — rests on a knife's edge.
To protect our region's most iconic marine mammal, we encourage all of you to take this month to learn and take action on behalf of remaining Southern Resident orcas. We've put together 24 awesome opportunities to do just that. The more activities you finish and resources you check out, the more chances you have at winning prizes!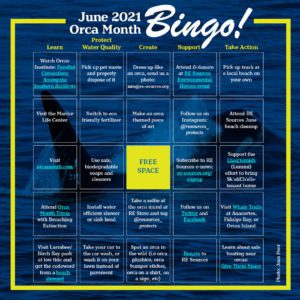 How to enter (by July 5th, 2021)
Each square completed is one

entry.

Earn 10

entries

instead of 5 for each BINGO line completed (double points!).
Prizes you can earn
Waterproof "I Protect Water" sticker if you complete one full BINGO line.
Each

entry

is a chance to win a personal local kayak tour with North Sound Baykeeper Eleanor Hines! No paddling experience required.
Learn more about or efforts to conserve endangered orcas.
Banner image: Joan Poor