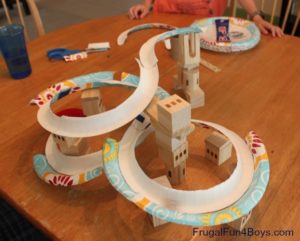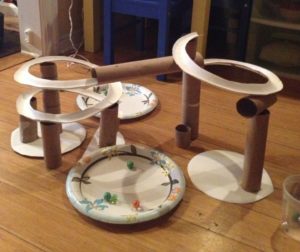 Calling all inventors, tinkerers, recyclers, future engineers, current engineers, non-engineers! It's time to put all those empty toilet paper rolls, cereal boxes, and yogurt cups to good use. We challenge you to create a marble maze or a ball run of epic proportions (or as big as you want)!
Download and print these directions (so you can get off the computer)!
Materials
Your unique ball run will depend on what materials you use, and how you creatively put them together! Your materials can be whatever you have around, but here are some ideas:
Scissors
Tubes and diverters

Contents of recycling bins
Cardboard
Toilet paper tubes
Paper towel tubes
Egg cartons
Water bottles
Yogurt tubs
High rimmed, thick paper plates

Balls

Ping pong
Tennis
Marble
Bouncy

Connectors

Zip ties
Clothespins
String/yarn
Rubber bands

Tape

Masking
Duct
Painter's
Packing
Step One: Start building!
Adhere your tubes and dividers using your tape and connectors. Create a run that is at least 8 feet long, with at least 4 direction changes.
Extra Challenges!
Can it accommodate different size balls?
Include a lever or a pinwheel
Include different heights
Include a water feature
Film it and set it to music
How many different types of building materials can you use?
Need some inspiration?
Here's what our friend Tim from The RE Store and his daughter Saylor made!
And then there are the professionals: Epic Ball Run
Send us a photo of your work or tag us on Instagram @resources_protects)!