Impacts from climate change: We can make a difference together!
Right now neighbors are helping neighbors, people are sewing masks, and the community is pulling together to distribute food for people most impacted by the COVID-19 pandemic. We are experiencing the importance of community and learning how best to be resilient in the midst of an emergency. As the planet warms, we can continue working together as a community to help lessen the effects of climate change here in Washington and Whatcom County.
Climate change is a vast topic. It can be overwhelming to imagine the big picture on a global scale, but shrinking the scale to the state and local level provides an opportunity to understand the impacts on the ecosystems and people in our region. So let's dive in!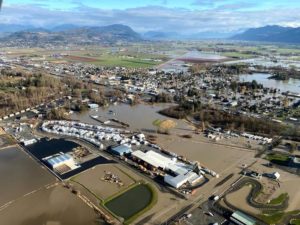 Aerial photo showing the flooding in Whatcom County February 1, 2020. Photo by Jeffrey A. Lustick
First, let's define climate change. According to the NASA website, "Climate change is a long-term change in the average weather patterns that have come to define Earth's local, regional and global climates. Changes observed in Earth's climate since the early 20th century are primarily driven by human activities, particularly fossil fuel burning, which increases heat-trapping greenhouse gas levels in Earth's atmosphere, raising Earth's average surface temperature. These human-produced temperature increases are commonly referred to as global warming." Learn more about energy and climate change!
The earth is warming at an alarming rate which is changing weather patterns including increased severity of storms, drought, wildfires, flooding, and precipitation in general and this warming is melting glaciers and ice caps which is contributing to rising sea levels. Since 1906, the global average surface temperature has increased by more than 1.6 degrees Fahrenheit and scientists project the temperature could rise anywhere from 2 degrees to 5 degrees Fahrenheit during the next century depending upon how quickly we take action.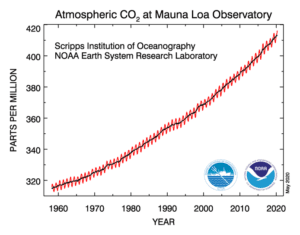 Watch a short video clip about the Keeling Curve, a daily record of global atmospheric carbon dioxide.
How do you think climate change is impacting our region?
Think about local ecosystems, natural environments, natural resources, and community:
What local changes do you think you will see as a result of global climate change?
What are some of your local communities, cultures, industries, economies, and businesses that rely on marine resources, the ocean, or other natural resources susceptible to the effects of climate change?
What effects of climate change are being addressed by local governments, communities, and organizations?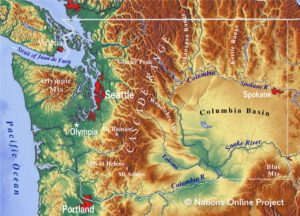 We're already seeing climate impacts
As a result of climate change, some of the changes Washington state is predicted to see are:
A decrease in mountain snowpack as more precipitation falls as rain instead of snow.The winter of 2015 saw very little mountain snow and we experienced drought and wildfires during the summer. This pattern is expected to be the new normal in the 10-20 years.This will alter the timing and amount of water in streams, creeks, and rivers which impacts fish and water supply for farmers.
More acidic marine waters.
This will affect the ability of shellfish to produce a hard shell. According to a scientist working in a NOAA research lab, oyster larvae tend to die when the water is acidic.
Warmer stream temperatures.
Salmon require cold water to thrive.
An increase in extreme precipitation events.
This will result in a greater risk of flooding, especially to low lying areas.We experienced this at the beginning of 2020 with devastating flooding around the Nooksack River. Not only were lives changed, but the cost of the damage from the flooding between late January through early February was over $4 million, $2.5 million of which was related to road and infrastructure damage.This will impact farmers in the area. In September of 2019, Skagit Valley potato farmers weren't able to harvest roughly 2,000 acres of potato fields due to heavy and early rains.
Hotter and dryer summers.
This will increase the potential for wildfires.
Sea level rise and shoreline erosion.
Think about how and where we are choosing to build structures in the community.High tides added on top of sea-level rise and increases in storm surge will result in further flooding. Check out which areas are most vulnerable.
An increase in glacial melt.
Roughly 300 glaciers exist in North Cascades National Park, the most glaciers anywhere in the US besides Alaska, but they are melting at an alarming rate.Melting glaciers will impact stream flows for fish, farmers, and our water supply.
Retreating Deming and Easton glaciers on Mt Baker.
Impacts to our drinking water source
In Bellingham, Lake Whatcom is our source for drinking water. These are some effects that climate change might bring to the lake:
Increased stormwater runoff flushing more contaminants and sediments into the lake.
Higher water temperatures combined with the high level of nutrients in the lake will result in increased algal blooms on the lake surface and reduce the amount of dissolved oxygen in the lake.More pollution and algal blooms lead to more intensive filtering at the treatment plant which uses more resources and costs more money to clean the water.
Higher average temperatures of air and water will increase the lake's vulnerability to invasion by aquatic invasive species that are more able to adapt to a changing environment.Invasive species can push out native species and cause myriad problems for the ecosystem.
Changes in precipitation amounts or timing could affect lake levels.
Increased precipitation could increase flood risk for low-lying areas of the watershed.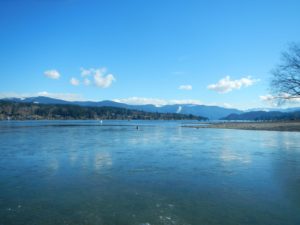 Lake Whatcom
In what ways does climate change impact different community members?
Farmers depend on predictable weather patterns of rainfall and periods of sun. Stronger storms dumping large amounts of rain earlier or later in season can ruin crops. Likewise, longer periods of drought and warmer temperatures can adversely affect crops.
Farmworkers spend long hours in the fields harvesting produce. Longer periods of heat could cause greater risks for health problems for these people. Often times they don't have access to health care nor do they receive sick pay.
Oyster farms and shellfish harvesters are impacted by ocean acidification as a result of climate change.
Fisherpeople depend on healthy fish populations to support their livelihood.
People living in low lying areas near rivers or shorelines are more susceptible to flooding.
As climate refugees move into this area from harder-hit areas, housing prices may continue to rise making homes unaffordable to many people.
Increased risk of wildfires will create air pollution and could threaten nearby towns and communities.
Local tribes like the Lummi and Nooksack livelihoods and cultures are deeply tied to the land and water. When ecosystems aren't healthy due to changing conditions. Native people aren't able to eat the foods that have sustained them for thousands of years and cultural practices may not be possible due to loss of species and habitat.
Netse Mot: One Mind for Xw'ullemy (the Salish Sea) gathering, led by the Tribes/Nations of the Pacific Northwest, to call attention to the imperative to restore and protect the Salish Sea.
Now for the GOOD NEWS!
All of these potential impacts from climate change will vary in intensity depending on how quickly humans act to reduce the burning of fossil fuels. Locally, there are many groups and organizations dedicated to building resilient communities, and to reducing our dependence on fossil fuels. Here are a few of them:
Watch this video for ideas about ways you can make a difference: Our Climate Our Future- "The Movement" video.
Take Action
Slowing climate change
Ok, so what can we do to slow the pace of climate change?
Speak up about climate change
Participate in a youth climate strike
Form a Green Team at your school and ask your school to install solar panels
Check out one of the above organizations to see how you can participate
Take the City of Bellingham "I'm In" pledge
Plant trees or a garden
Recycle and use less paper (learn more about the impacts of making paper in this lesson)
Turn off the lights
Walk, bike, or skateboard instead of drive
Use less plastic
Eat less meat
Buy used, not new
Buy local produce and goods
Replace incandescent lightbulbs with LED lightbulbs
Conserve water
Don't idle your vehicle, turn it off while you wait
Install solar panels
What other ideas do you have? Dream big!
What actions are you inspired to take to reduce the pace of climate change? 
Share your ideas with us! Or tag us on Instagram (@resources_protects) with a photo or drawing of something you choose to do to make a difference for our climate. We want to see it!
Continue Learning!
There are lots of topics for you to choose from. Don't stop here; move on to discover another lesson! New lessons uploaded each week.