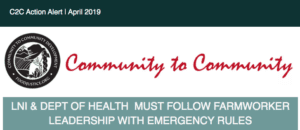 C2C has been sounding the alarm about substandard and often nonexistent health and safety protections for farmworkers, most notably with regard to the dangers of pesticide exposure, for 15 years. For the last month, we have been begging the state to implement emergency rules to protect farmworkers so that this historical negligence would not result in preventable farmworker deaths.
On March 19, we co-authored a letter to Governor Inslee demanding that he enact emergency orders to ensure that farmworkers have access to medical treatment, adequate quarantine facilities, and implementation of social distancing and sanitization protocols. C2C leadership participated in calls with state agencies, the Governor's staff, and the Agricultural and Seasonal Workforce Services Advisory Committee attempting to convey the urgency of enforceable rules in agriculture, as thousands of farmworkers were already at work and thousands more were scheduled to arrive in Washington State for the harvest season.
Washington State Representatives and Senators co-authored this letter in support of our demands for equitable treatment for farmworkers who are at extreme risk of contracting COVID-19. Latino Civic Alliance submitted this letter to the Governor's office, echoing our call for justice in agriculture, where 99.5% of the agricultural workforce in WA is Latino. All the while, farmworkers, dairy workers, and processing and packaging workers continued on the front lines, risking their lives to feed us.
Seeing no significant response from Washington State, Familias Unidas por la Justicia and UFW filed a lawsuit against these agencies on April 15, 2020. The lawsuit demanded that the emergency safety regulations be issued immediately. The lawsuit remains set for a hearing at 10:30 a.m. on May 1, 2020 — International Workers' Day.
On Thursday April 23, the Department of Health and the Department of Labor and Industries finally published proposed emergency regulations regarding farmworkers' housing (critically leaving out transportation and work sites), scheduled to take effect May 1st. While it is a relief that the State of Washington has decided to take action, on careful review of these "new" orders, our frustration grew upon seeing there is very little change from the current, inadequate regulations.
It is appalling that it took the threat of a lawsuit to force Governor Inslee to force the State Agencies to issue these orders. It is even more appalling that the State's actions came too late to prevent 70 farmworkers from becoming ill in Yakima, and 42* H2A workers becoming ill at the Stemilt labor camp in Wenatchee. * Note: contrary to the Stemilt press release stating there were 37 ill workers, there are actually 42 workers who have tested positive.
It adds insult to injury to issue rules that allow the use of dangerous tent housing, which will lead to more illness and put more farmworkers at risk.
WE ASK THAT YOU JOIN US AND SUBMIT COMMENTS NOW VIA EMAIL to the Department of Health and Labor and Industries demanding that the content of these new emergency orders truly protects and helps save lives of farmworkers and those in rural communities where they live and work by including these FIVE KEY CHANGES
Comments on the draft emergency rules will only be accepted through this Monday, April 27, 2020. Submit comments to both the Department of Health (housing@doh.wa.gov) and Labor and Industries (cynthia.ireland@lni.wa.gov) demanding these changes — we encourage you to read our FULL comments as well as this summary; you may copy and paste from either:
1) Prohibit use of bunkbeds entirely, as well as the use of plastic sheeting as barriers; instead of barriers, current spacing ratios for housing, showering, sinks, cooking, and food storage facilities must be revised to reflect current CDC social distancing recommendations
2) Prohibit expanded use of tent housing
3) Require education about COVID-19 cleaning protocols and general health and safety precautions in line with CDC recommendations, as well as what to do if you suspect you are sick and what will happen if you test positive, in a language or languages understood by the contracted farmworkers
4) Require farms to continue providing regular pay for workers in isolation in addition to adequate food and water; and require contract tracing and consequent isolation of anyone who has come into contact with any worker (including management) who has tested positive for COVID-19
5) Department of Health must re-inspect all temporary housing and only issue licenses and/or certifications of compliance with state standards with facilities that fully comply with these regulations
---
SAVE THE DATE: INTERNATIONAL WORKERS' DAY, FRIDAY, MAY 1
Join C2C and FUJ in Olympia! More details to follow.
---
We are fighting for the lives of domestic farmworkers and the approximately 9,000 H2A guestworkers from Mexico who are currently living in labor camps. In order to get accurate information out to farmworkers and immigrant families in rural communities, we are doing outreach and distributing donations and masks, plus assisting families to apply for the few benefits they are eligible for, such as the cash assistance program.
The C2C promotoras doing this work come from the directly-impacted communities they are working with and need financial support to be able to continue organizing amidst the crisis, as their workload has more than doubled. To support C2C promotoras, donate here.
Donate to Familias Unidas por la Justicia
If you have received a stimulus check and are able to donate it to Familias Unidas por la Justicia to be redistributed to their undocumented members who did not qualify for that stimulus package, donate here.
---
INTERNATIONAL SOLIDARITY AND A JUST RECOVERY
We demand that the recovery phase of this crisis fundamentally changes our economy and food system to center unionized green jobs and worker-owned cooperatives, to recapture displaced workers and allow for a resilient, healthy food system free of pesticides and worker-exploitation. This requires amnesty and citizenship for farmworkers and all undocumented workers who cannot cease to be seen as "essential" once this crisis passes. This requires re-opening the U.S. Mexico border and demilitarizing border communities on the northern and southern borders. We reject false solutions that further sacrifice the environment and people for toxic fossil-fuel based industries. Agriculture is no exception.
In solidarity,
Rosalinda, Lucy, Australia, Arely, Brenda, Liz, and Maureen
---