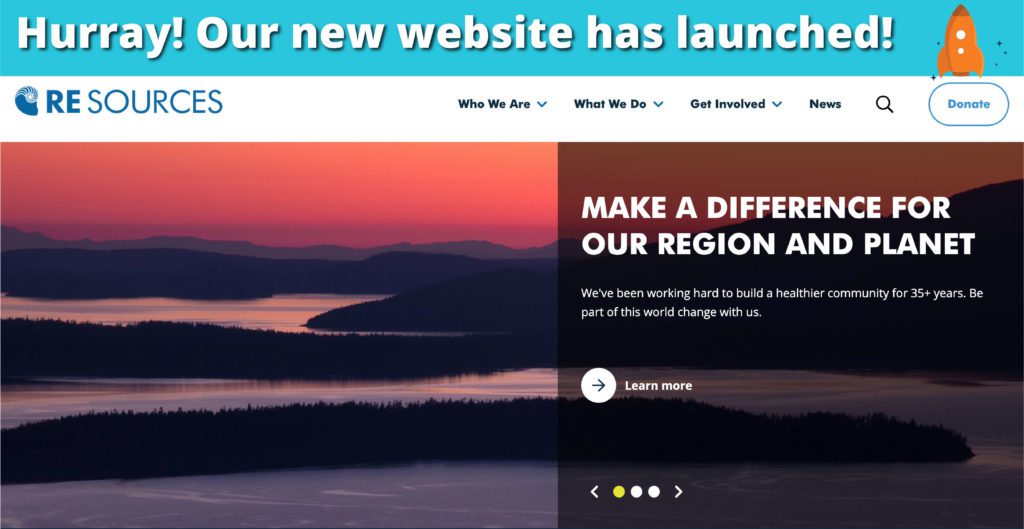 Welcome to the brand-new RE Sources website redesign! We've been working on this project for several months and are really, really excited to showcase our work in a more user-friendly, mobile-compatible, and issue-focused way. We hope it'll make it even easier for you to take action on the environmental initiatives you care about and see the interconnectedness of the vital work we do together.  
And maybe while you're browsing the new re-sources.org, you'll find something you had no idea RE Sources worked on (did you know we're helping 90 Whatcom County K-12 educators learn to teach climate science in the classroom?).
A huge shoutout to SOLE Graphics who designed this site to display the often complex, multifaceted issues that RE Sources and our supporters take action on.
Same environment and community-oriented work, new look
When we started this project we began with a few core ideas: better storytelling, photos of our staff and supporters in action, most importantly: complex topics broken down into easy to read chunks. Above all, we wanted to make it easy for you to find the information you need and take action — quickly! There are now four main menu items, plus a functional search bar:
Who We Are:

Includes how to contact us, employment opportunities, and how we approach the task of making Northwest Washington a healthy place.

What We Do:

Our new website breaks our work into categories and issues, instead of along program boundaries – meaning you'll be able to see how interconnected our work is.

Our

What We Do

page and menu can help you learn about how our community protects clean water, fights pollution, reduces waste, takes on climate change, and more — day in, day out. You'll also find background information, information on our RE Sources' role, and ways you can take action to protect the places you're passionate about. 

Get Involved:

Upcoming events and recurring meetings, tools for you to advocate for protecting our region, renting our meeting space, and more. If you haven't,

take a moment to sign up for our newsletters and action alerts

to get ways to restore the Salish Sea, combat climate change, and much more delivered to your inbox. We won't spam or give your information to anyone.

News:

Includes our blog, updates, and press releases. New feature: you can filter these posts by category.
We hope you like the changes. If you have any feedback, please let us know. Follow us on Facebook and Instagram for updates on local environmental work! And be sure to look for a new feature – a section titled Take Action, where you can find concrete ways to make a difference. 
Enter to win a $150 gift card to The RE Store 
What better way to get to know our site than by participating in our scavenger hunt. We invite each of you to search for the answers of the following questions. All answers can be found on our site. Those who answer all 10 questions correctly on our answer sheet by January 3rd will be entered into a drawing to win a $150 gift card to The RE Store.
In what year was RE Sources founded?

Our Sustainable Schools team brings environmental education into Bellingham's K-12 classrooms. What are two topics they teach?

What is the name of the Sustainable Schools high school program that painted a mural of endangered Southern Resident orcas on the side of The RE Store building?

The RE Store is well known as a building material recycling resource. Name two other services The RE Store offers?

What webpage talks about the work of the Bellingham Climate Action Task Force?

Cherry Point is home to 2 oil refineries, and was the site of a proposed coal export terminal that was defeated in 2016, upholding Lummi Nation's treaty rights. What is the Lummi word for Cherry Point?

 

How many Whatcom County residents have signed fossil fuel related petitions since 2012?

What is one way our clean water staff monitor for pollution?

What smartphone app can members of the public use to report pollution?

What is the name of RE Sources' North Sound Baykeeper?