By Beau Seydel, Clean Water Program intern
Among the beautiful bays and public parks of Whatcom County and beyond, I find something hidden (sometimes not so hidden) that seems to reemerge every time I look.
Unfortunately, that hidden something is… garbage.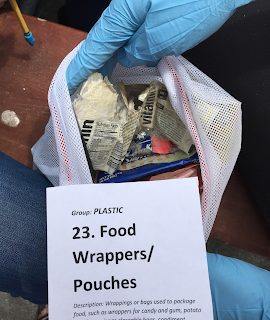 During my ventures collecting and sorting trash, I've found there's an astonishing amount of garbage that's invisible if you're not paying attention. It's only when you're actively searching for trash do you find the cigarette butt wedged in the parking block, the bottle under some driftwood, or bag precariously hanging from the limb of a bush.
Each year, over 14 million tons of plastic makes its way into our oceans, costing the world economy an estimated $13 billion. How can we even begin to give communities tools to tackle such a global problem?
That's why people around the world are taking it upon themselves to find, clean up, and identify what exactly is being littered and where. RE Sources and partners, along with some intrepid volunteers, are at the forefront of testing out effective, easy-to-use methods of better understanding what types of trash are polluting which oceans and beaches, to better inform our local efforts to curb plastic pollution.
We're finally starting to develop systems that allow us to scientifically categorize trash in different types of landscapes. And it's not well-funded companies or research groups doing the heavy lifting, either; people in local communities are stepping up to test and improve these new systems to understand plastic, metal, and glass pollutants and how we can reduce their impact.
That's what makes this so exciting and is why I got involved. Anyone can step in and make a difference in this field, whether they're collecting data from a clean-up or simply helping to reduce litter on a beach.
In our community, I've worked primarily with RE Sources, helping the Environmental Protection Agency do trial runs on their own trash data collection system, the Escaped Trash Assessment Protocol (ETAP), with the goal of helping them refine it. We've been going through the tedious efforts of gathering trash in a specific plot of ground, sorting all the trash into 45 specific categories, then weighing, counting, and taking pictures. The process is time-consuming, but it does yield important data; data that can, for instance, make strides in providing more trash receptacles and informational signage relevant to the most abundant litter. The most interesting part of this work has been seeing what types and quantity of litter we find in areas across Whatcom County.
People are coming together worldwide to combat coastal pollution everywhere. The annual International Coastal Cleanup is a great example of how widespread this work is. Ocean Conservancy hosts this event as a whole, but it's up to individual community groups and organizations, like RE Sources and the Northwest Straits Surfrider chapter, to gather people together and clean thousands of pounds of trash from our beaches. Programs like ETAP can improve the efficacy of these cleanups and help us get more out of them.
I must say, I'm impressed by the amount of people willing to spend their weekend afternoons collecting trash on the shore. The stewardship community members exhibit at these events fills me with hope for our ability to make a change. People are willing to bring supplies and properly dispose of trash and recyclables gathered. It's not always easy putting a wet bag of trash in your car!
If you want to be part of the solution, meet other awesome folks in the community making change, and be on the cutting edge of citizen science, contact Eleanor Hines at eleanorh@re-sources.org, or apply to be a North Sound Steward today.