It's hard to picture Whatcom County without its rich mosaic of landscapes, from stunning shorelines and mountain vistas to fertile farmland, old-growth forests and unparalleled open spaces. Sadly, eleven months into 2021 it's hard not to also picture extreme heat waves, droughts and flooding. November's flooding claimed at least one life, displaced hundreds, devastated farms, and cost an estimated $50 million in damages and climbing. A little-known program known as the Conservation Futures Fund represents a key to both preserving these iconic landscapes and adapting to more extreme weather.
With today's understanding of how climate change and land degradation are fueling flooding, one imperative is clear: we must invest in conserving land so our communities can bounce back and thrive in the face of the climate impacts we're already facing. There's a reason it's listed first on our Solutions Agenda for building a Climate Resilient Northwest Washington.
Doing everything we can to protect our natural areas, particularly important ecosystems like mature forests, shorelines and floodplains, as well as working farmland and working forestlands, helps retain the resilience of natural systems; absorb, retain and filter rainfall; mitigate erosion; preserve habitat and ensure future opportunities for food production, forestry, flood mitigation, and recreation. If that weren't enough, the plant life and soils of these areas also sequester carbon.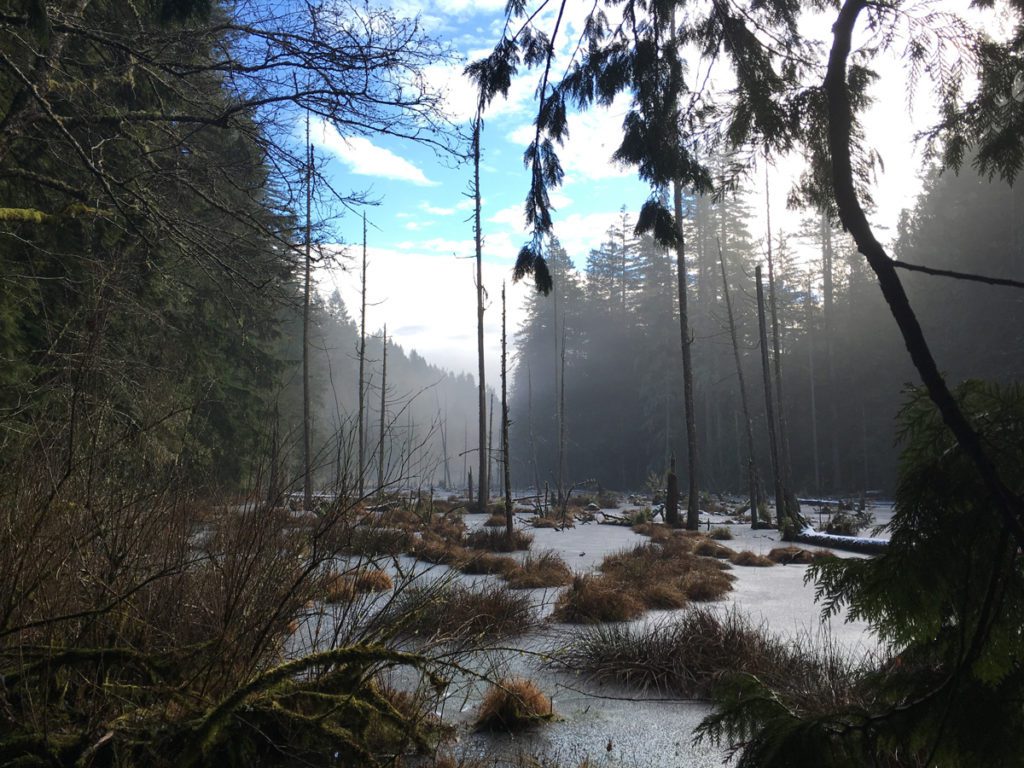 That's why earlier this fall we sent out an Action Alert inviting Whatcom County residents to urge their County Council to increase investment in conserving open space and protecting forests and farmland across the county now by raising the levy for the Conservation Futures Fund — a county fund for the protection of open space for future generations — by 1%.
Increasing funding for land conservation is recommended by the County Climate Impact Advisory Committee as an immediate, effective action the Executive and Council can take to curb the impacts of climate change and create community resilience. The levy is a very small tax on property value — a rate of .0322/$1,000 assessed valuation, which hadn't increased since 1990.
Because the Whatcom County Council had deferred on increasing this levy for so long, they had the ability to increase the levy by more than 1%. At the November 23rd Whatcom County Council Meeting, the council discussed doing just that. We're happy to share that at their December 7th meeting, the Council voted to pass an 8% rate increase to the levy, enough to increase funds for Conservation Futures by roughly $100,000 per year. While that may not sound like a massive sum in the context of purchasing large tracts of land, these funds are often used to leverage more grant dollars and piece together landmark conservation successes. One such local landmark is Stimpson Family Nature Reserve, which was originally conserved by our friends at Whatcom Land Trust.
Assuming a median-home-price property value in Whatcom County, this levy rate increase would raise a household's annual property tax bill by a modest $1.43. Increasing climate resilience while conserving open space seems like a bargain at less than the price of a cup of coffee per year.
We don't take the prospect of raising property taxes lightly, especially in the wake of disasters that have been crippling to so many residents and have stretched the County's resources thin. At the same time, by letting natural lands be converted to development, we open ourselves up to more pavement, more run-off, and less of a natural buffer from severe and costly flood damage in the future.
With our region's population growing and climate change amplifying droughts, wildfires, heat waves and floods at an alarming pace, it's clear we'll need as much of the resilience offered by our open spaces as we can get. Once forests, wetlands and farmlands are paved over or clearcut, it's hard to turn back the clock. Looking back, few would suggest that special places like Stimpson Family Nature Reserve and Chuckanut Mountain were bad investments for our communities.
In addition to treasured open spaces for public recreation, a core priority for Conservation Futures funding is to protect agricultural lands through the Conservation Easement Program. For example, Conservation Futures funding can be used to purchase a conservation easement, through which a farmer can voluntarily sell the development rights to their land. The farmer would get an infusion of cash, but would still own the property. This would ensure that the farmland could never be developed, and that the farm could stay in the family for generations. Meanwhile, the farmland would continue to provide valuable habitat for wildlife such as migratory waterfowl. This can be an attractive option for farmers with low-lying farmland that floods too frequently to yield crops or safely support livestock.
In a perfect world, our taxes would be spent in ways that reflect our shared values as Whatcom County residents. At a time of intense political polarization it can be hard to think of values we all still share. But in the case of Conservation Futures funds, we have an opportunity to invest in our common ground: open space, fresh air, healthy lands and a legacy for our children that we can all be proud of. Thank you for supporting this wise investment in proactively conserving the forests, farmlands and open spaces that make Whatcom County a place like no other. These places only endure when people take action to protect them.
Photo of the beaver pond at Stimpson Nature Reserve by Justin Cron via Unsplash.com
Photo of Mount Baker and croplands by Alan Fritzberg