It's been one heck of a year. From federal-level action (like passing the Inflation Reduction Act and the infrastructure funding bill) to impactful local policy (like creating an electrification ordinance in Bellingham and updating state-wide building codes), it's no secret that elected officials shape the world around us.
Which is why we're checking in — are you sure you're ready to vote this fall?
Maybe you just turned 18 and you're not sure how to register. Or maybe you're a seasoned voting pro, but with so much at stake, why not double check your voter registration?
Thankfully, updating your voter registration in Washington takes only a minute and can be done from any device.
---
Checking Your Voter Registration
It's easy to double check your voter registration:
Head to this link and enter your name and birthday
Double check that your registration status is "active"
Make sure your date of birth, address, and county are all up to date
If some information is incorrect, click the "update my name or address" button and add your new information.
Fun fact: If you know their name and birthday, you can check if your friends and family are registered and encourage them to do so if not!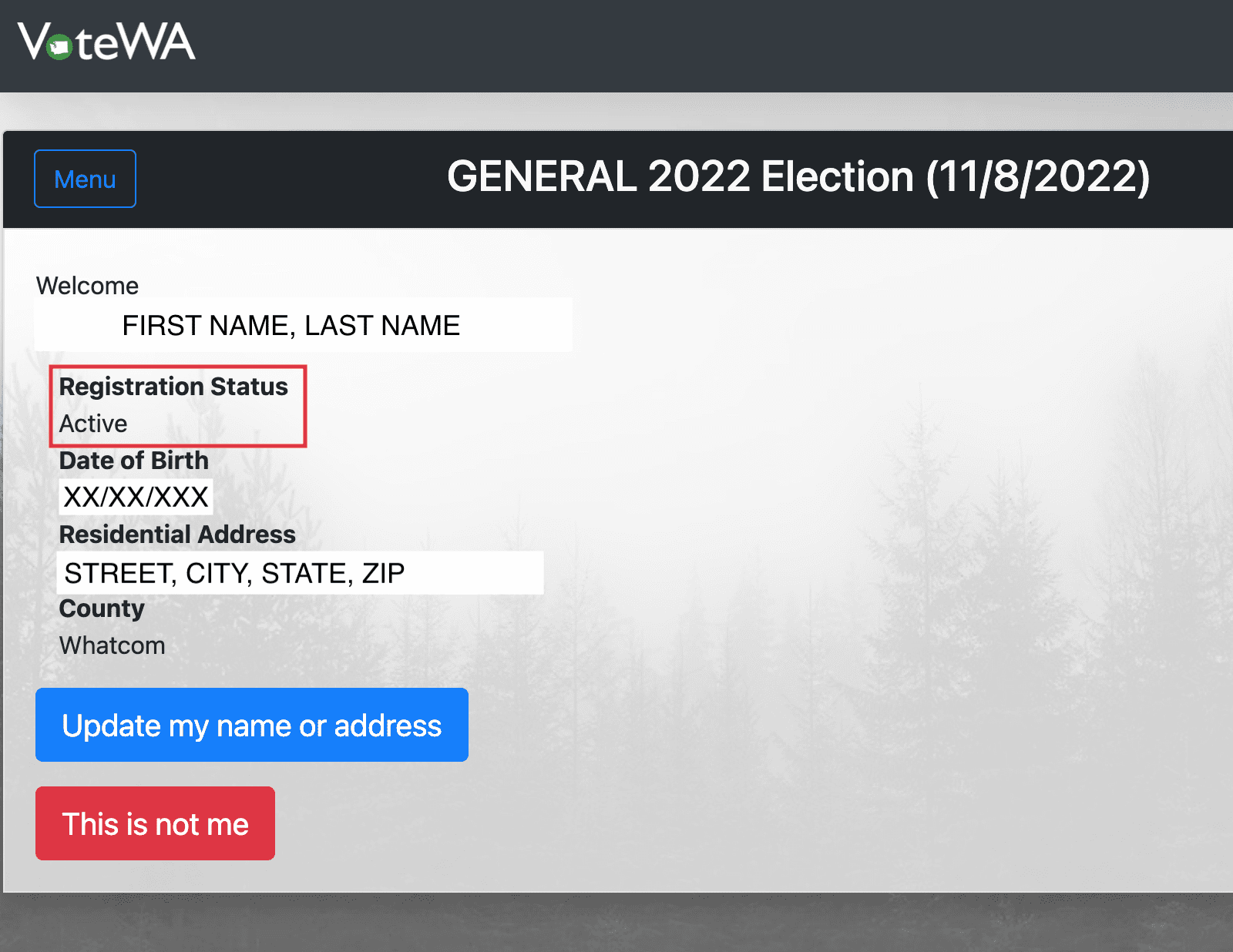 ---
What could impact your ability to vote this fall?
If you have a new address, changed your first or last name, changed your party affiliation, or turned 18 this year, you'll need to update your voter registration to be able to vote in the midterm elections this November. Even if you're certain you're registered to vote, it never hurts to double check.
Washington is pretty special in that we get the opportunity to vote by mail (ballots should be arriving this week!), which makes voting easier and more accessible to everyone. That's why it's even more important to double check your voter registration to ensure your ballot gets to you in time. To receive your ballot in the mail, you must make sure your voter registration is updated by October 31st (but to really play it safe, we recommend making sure your registration is updated by October 21st to guarantee you receive your ballot in time).
If you miss this deadline, you can still update your voter registration before 8pm on November 8th (election day!), but you'll have to do it in person. Or you'll have to print a new ballot and drop it off at a local ballot box.
---
Important Dates to Remember
October 21: Start of 18-day voting period (through Election Day). Ballots are mailed out and Accessible Voting Units (AVUs) are available at voting centers.
October 31: Online and mail registrations must be received 8 days before Election Day. Register to vote in person during business hours and any time before 8:00 p.m. on Election Day.
November 8: Deadline for Washington State voter registration or updates

(in person only)

.
November 8 General Election: Deposit your ballot in an official drop box by 8 p.m. on Election Day. Get to your nearest dropbox a bit early — many of them have a line of last-minute voters, but officials still shut the box at 8 p.m. sharp!
Why not make things easy on yourself and double check your voter registration now? It only takes a minute. Then you'll know you're good to go when those ballots leave the post office.
Voting affects everything from climate to public health — so make sure you're ready to hit the polls come election day!
---
What if I'm too young to vote?
If you don't turn 18 by election day, you are ineligible to vote, but that doesn't mean there's nothing you can do to take part in the democratic process. For example, you can help make sure your friends and family of voting age have their registrations up to date, you can help share information ballot drop-off information and help make sure your family and friends can get to a ballot drop-off location, you can get involved in a candidate's campaign, and you can speak up about issues that matter most to you. See this resource for even more ways to get involved.
Also, as of this year, 16-year-olds can register as Future Voters and they'll be officially registered once they turn 18 and receive their ballots.