Believe it or not, this is the 50th anniversary of Earth Day!
Our minds and hearts are focused on COVID-19 right now, but one of the things that climate change and this pandemic have in common is the need for community action. Neighbors helping neighbors is how we are building resilience. We often forget about the community actions and uprisings that led to Earth Day and the subsequent creation of the Clean Water Act, the Endangered Species Act, and the Environmental Protection Agency to name a few.
On April 7, 1970, roughly 20 million Americans took to the streets to protest the treatment of the environment and demand our leaders do something about it. Sound familiar? Resurfacing as a theme for 2020, Climate Action brings us back to the roots of Earth Day.
In the 1960s, the Cuyahoga River in Ohio caught fire due to chemicals and pollutants spilling into the waters from industry, DDT was used as an insecticide that nearly led to the extinction of eagles (an injustice brought to light by Rachel Carson in her book A Silent Spring), and a massive oil spill spread over 800 square miles off the coast from Santa Barbara, CA. Right now clean water, clean air, and healthy communities are still at risk and we are all still in this together.
But wait, stewardship and conservation have been around a lot longer than 50 years.
Here in Whatcom County, we live on the traditional and ancestral lands of the Coast Salish People. The Lummi Nation and the Nooksack tribes are the original stewards of this land and have been living here since time immemorial taking great care of the land, the waters, and beings in this place we all now call home. Their cultures are deeply intertwined with the earth and suffer greater losses due to the degradation of the environment in Whatcom County, in particular the decline of salmon. Watch this animated short featuring Billy Frank Jr., a non-violent leader, an advocate for tribal sovereignty, treaty rights, and protector of salmon whose legacy continues to impact communities.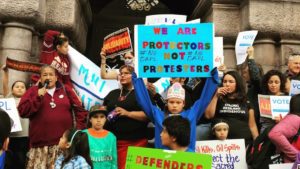 So as First Nations, tribal nations, and youth lead this global movement, let's remember the importance of our collective power to TAKE ACTION.
Take Action
There are many stewardship activities you can participate in at home to celebrate Earth Day. One of the easiest and most fun things you can do is pick up litter! Picking up litter can be accomplished anywhere at any time, and it really makes a difference! Trash is a big problem because it can hurt or kill animals, destroy habitat, fill oceans, spread illness, and is ugly. By removing trash, we will make Whatcom County a better place to live, for us and the plants and animals.
Actions can be large or small. It all makes a difference! Here are some ideas of ways you can take action:
Walk, bike, skateboard, rollerblade, ride the bus, or carpool
Participate in a march (but not right now!)
Support our local farmworkers to ensure they are paid a living wage and have protections in place if they fall ill
Grow a garden
Think before you buy
Be mindful of water use
Shop locally to support our community
Compost food scraps or feed them to goats, pigs, or chickens
Save leftover food
Reduce the amount of single-use plastics we use
Support the efforts of local tribes who are working for the protection of the earth
Help educate others about the environmental concerns you are most passionate about
Want more ideas? Check these out. 
Show us what you did!
Take a picture or video of you and your action project and send them to us or tag us on Instagram (@resources_protects)!
Continue Learning!
There are lots of topics for you to choose from. Don't stop here; move on to discover another lesson! New lessons uploaded each week.